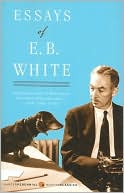 E. B. White was born on this day 1899. The battle between midtown and off-road started early in White's career. Throughout his first years at The New Yorker he was thinking of chucking the day job for the backwoods, at one point taking a trip to northern Ontario with an eye to opening a boys' camp. One of White's letters to Katherine Angell from Canada includes his poem "Natural History"; if this shows his city life hanging by a thread, the thread is the strongest kind:
The spider, dropping down from twig,
Unfolds a plan of her devising,
A thin premeditated rig
To use in rising.

And all that journey down through space,
In cool descent and loyal hearted,
She spins a ladder to the place
From where she started.

Thus I, gone forth as spiders do
In spider's web a truth discerning,
Attach one silken thread to you
For my returning.
Within a decade White and Angell would move to their Maine farm, this option a compromise lifestyle and a place where White would write not only Charlotte's Web but Here Is New York. In The New Yorker White would write often of Thoreau and his Walden experiment, always expressing praise though never in a road-not-taken voice:
Henry Thoreau has probably been more wildly misconstrued than any other person of comparable literary stature. He got a reputation for being a naturalist, and he was not much of a naturalist. He got a reputation for being a hermit, and he was no hermit. He was a writer, is what he was.
…
Walden is the only book I own, although there are some others unclaimed on my shelves. Every man, I think, reads one book in his life, and this one is mine. It is not the best book I ever encountered, perhaps, but it is for me the handiest, and I keep it about me in much the same way one carries a handkerchief — for relief in moments of defluxion or despair.
…
The Thoreau Society wants contributions so it can buy the house at 73 Main Street, Concord, where Henry David Thoreau sat taking pot shots at the whole theory of shelter. We haven't decided yet whether to listen to the Society or to Henry.
---
Daybook is contributed by Steve King, who teaches in the English Department of Memorial University in St. John's, Newfoundland. His literary daybook began as a radio series syndicated nationally in Canada. He can be found online at todayinliterature.com.