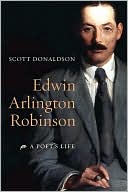 November 25: Edwin Arlington Robinson's "Mr. Flood's Party" waspublished for Thanksgiving Day, 1920 by the weekly magazine, The Nation. It is one of his mostanthologized and highly-praised poems, categorized by Robinson himself near theend of his career as probably the best thing he'd written. As a Thanksgivingpoem it is bleak and cautionary, Old Eban Flood now reduced to his own companyand conversation:
"Well, Mr. Flood, we have the harvest moon

Again, and we may not havemany more;

The bird is on the wing,the poet says,

And you and I have said ithere before:

Drink to the bird."He raised up to the light

The jug that he had goneso far to fill,

And answered huskily: "Well,Mr. Flood,

Since you propose it, Ibelieve I will."
Prohibition havingrecently been enacted, it would have been moonshine in the jug—another, moretemperate magazine declined to publish the poem "for alcoholic reasons."Robinson had his struggles with alcohol, but he believed in the Dionysianspirit and passionately advocated against Prohibition. Robinson also had hisstruggles with loneliness, noting as early as age twenty-five that it wouldlikely be the "one great trouble" of his life. Although well-likedand convivial in the right situations, he never married, perhaps forprofessional reasons: "A poet must stand in an alcove and watch life goby." Throughout his writing life he spent his winters in inexpensive one-or two-room apartments, his summers at the MacDowell Artists' Colony in NewHampshire. He went there each year for over two decades, becoming famous forboth his social detachment and his devotion to writing (and the three Pulitzerswhich were mostly written there). The following is from Scott Donaldson's 2007biography, Edwin Arlington Robinson:
Robinson could becomeobsessive in his quest for the one perfect word. "For two weeks," hetold a young colonist, "I've gone to my studio every morning afterbreakfast and stayed until after five o'clock. For two weeks I've searched forone word—and I haven't found it yet." According to a story that has becomelegendary at MacDowell, a brash young newcomer waxed expansive at dinner aboutthe two thousand words he'd written that day. "How about you, Mr.Robinson?" he asked. "Did you have a good day?"

"This morning,"EAR dourly replied, "I removed the hyphen from hell-hound. And thisafternoon, I put it back."
---
Daybook is contributed by Steve King, who teaches in the English Department of Memorial University in St. John's, Newfoundland. His literary daybook began as a radio series syndicated nationally in Canada. He can be found online at todayinliterature.com.