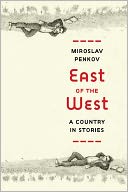 A young man — he was born in Bulgaria in 1982 — Miroslav Penkov possesses an old soul. Such is the conclusion to be drawn, at least, from the haunting, haunted stories in his debut collection East of the West. They all exhibit an elegiac, melancholy wisdom more fitting for some aged, seasoned Isaac Bashevis Singer or even Tolstoy. They evoke tears, but not a frenzy of wailing; sorrow, but not utter despair. They seem reflective of the period after everything has collapsed, when people realize life continues, post apocalypse, and they must now figure out how to carry on. Of course, the disintegration of the Soviet empire plays a large part in all this.
In "Makedonija," an old man and his stroke-muted wife eke out their days in a shabby nursing home, circa 1969. Their daughter, her own marriage disintegrating, visits regularly, but is a tedious bore. The elderly husband recounts these wan days, centering around the discovery of old secret love letters from decades past to his wife. A final burst of energy, like a tree stump sprouting a new leaf, is provoked by thoughts of the wartime sacrifices of his wife's long-dead lover.
The title piece chronicles the childhood and maturity of a hapless fellow nicknamed "the Nose." Living on the border between Bulgaria and Serbia, he loves a woman he is too timid to claim. With the fall of Communism, he travels to see her and her son, finds her beholden to another man, and confronts the rest of his lonely life with a newfound clarity of vision.
"Buying Lenin" charts the soul-churning American hegira of a young student whose divided loyalties between the USA and Bulgaria, the latter nation symbolized by his aged grandfather, eventually pull him homeward.
A young woman named Maria discovers the secret of her developmentally disabled sister Magda in an institution, and tries to secure help for her from their long-vanished father, through means of "The Letter." "A Picture with Yuki" finds a native son of Bulgaria back home with his Japanese bride, and their lives intersecting disastrously with that of a Gypsy family. "Cross Thieves" follows a band of disaffected rowdy youths trying to find a foundation to their lives amidst yet another social upheaval after the Communist fall.
In "The Night Horizon," a young girl named Kemal, whose father quirkily teaches her the craft of bagpipe making, experiences ethnic prejudices. And finally, "Devshirmeh" gives us the tale of a Bulgarian expatriate in Texas, attempting to reconnect with his young daughter, post-divorce, through legends of the old country.
Penkov's calm, meticulous prose is perfectly suited to his themes of inter-generational confusions, postmodern anomie, and subterranean passions. The surfaces of everything are furred and dusty and battered, but fugitive beauties peek out here and there. For example:
She stood by the fountain, whose pool was overflowing, its bottom clogged with rotten leaves. Water barely oozed out of two of the spouts that had been bashed in with something… With two fingers Yuki held up a ladle tethered to the fountain with a rusty chain. The ladle was green except for the rim where thirsty lips had kissed it for over sixty years: the metal there shone, as pure as the day it had been forged.
To Penkov, people are either smothered in fusty old grandparental clothes, or forced to ramble in cheap WalMart rags like Tom O'Bedlam, while just over the hedgerow, visible only in rare moments, a naked, unreachable Eden awaits.
---

Paul Di Filippo's column The Speculator appears monthly in the Barnes & Noble Review. He is the author of several acclaimed novels and story collections, including Fractal Paisleys, Little Doors, Neutrino Drag, and Fuzzy Dice.