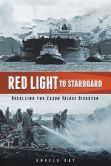 The Exxon Valdez ran aground twenty-five years ago today, spilling 14,000 gallons a minute into Prince William Sound, Alaska. Angela Day's Red Light to Starboard (2014) is titled after the repeated warning delivered by Maureen Jones, the Valdez lookout, to the officer in charge of the bridge just minutes before impact:
The rule "red, right, returning" is ingrained in anyone who has spent time at sea. The red buoy light marks the channel, and ships coming into port should be able to see the red buoy to their right-hand or starboard side. Jones noted the red buoy light remained on the right as the ship departed the port. Her "red light to starboard" declaration would prove to be the last of a litany of signals of impending disaster. It served as a metaphor for the unheeded warnings that fishermen and citizens, and whistleblowers at the Alyeska Terminal [Prince William] and the Department of Environmental Conservation had sounded over the past decade.
Red Light to Starboard explores how and why the Valdez crash, a rock thrown into the ecological-social pool, rippled into an ever-widening disaster, one still impacting the local environment and inhabitants — one of them Day's fisherman husband, whose personal narrative helps to frame and anchor her study.

In The Oil Road (2013), James Marriott and Mika Minio-Paluello note that every day worldwide, "close to 100 million barrels of crude are collected from zones of extraction and delivered to points of consumption." While Marriot and Minio-Paluello follow one specific shipment of crude along one delivery corridor, from the Caspian Sea down to the Mediterranean and then up to London, they show how every oil road requires a vast "Carbon Web" of multinational corporations, government regulators, research organizations and cultural institutions — and a planet, say the authors, with its fingers crossed if not its eyes closed.
---
Daybook is contributed by Steve King, who teaches in the English Department of Memorial University in St. John's, Newfoundland. His literary daybook began as a radio series syndicated nationally in Canada. He can be found online at todayinliterature.com.