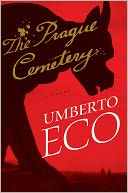 Umberto Eco was born on this day in 1932. One short piece from How to Travel with a Salmon & Other Essaysis "Conversation in Babylon," a chat between Uruk and Nimrod, two gadget geeks living "in the shade of the Hanging Gardens, not many thousands of years ago." It begins with Uruk proudly displaying his new "Egyptian serf-writer," a Thoth 3 Megis-DOS who can format the clay tablets as well as write on them — and he comes with a hieroglyphics program. After scoffing that the Thoth 3 is already obsolete, Nimrod unveils his upgrade, a portable:
NIMROD: …a dwarf-writer, an African Pygmy as modified at Sidon. You know what those Phoenicians are like, they copy everything from the Egyptians, and then they miniaturize. Look: a laptop. It writes while seated on your knees.
URUK: Disgusting. And hunchbacked as well.
NIMROD: Of Course. They inserted a plate under its shoulders for quick back-up. One lash of the whip and he writes directly in Alpha-Beta, you see? Instead of the graphic mode, he uses text mode. That means that you can do everything with twenty-one characters. You can write the whole text of Hammurabi on a few 3.5 tablets.
Nimrod continues to point out the new features — a built in serf-translator, graphics capability, etc. Uruk is impressed, though he has a larger worry about how all the new technology and new programs are going to cause confusion. "Don't worry," says Nimrod. "It could never happen here. Not in Babel."

Eco's latest novel continues his play with literary genres and historical periods. The Prague Cemetery rewrites nineteenth-century European history as a babble of conspiracy theories, all of them perpetrated by an amoral super-scribe who has a genius for imitating anyone's handwriting. The purported conspiracies show the century's wars and disasters to be the work of Jesuits, Jews, or Freemasons, of Italian Carbonari, German secret police, or international anarchists — a convenient, you-pick-'em list of scapegoats, programmed to please any prejudice.
---
Daybook is contributed by Steve King, who teaches in the English Department of Memorial University in St. John's, Newfoundland. His literary daybook began as a radio series syndicated nationally in Canada. He can be found online at todayinliterature.com.