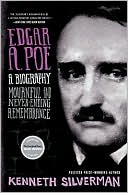 January 19: Edgar Allan Poe was born on this day in 1809, under the sort ofconditions that would too often recur in his own adult life. Poe's motherbecame an itinerant actress at the age of nine; she was orphaned at age eleven,married at fifteen, widowed and immediately remarried at eighteen, andabandoned by her second husband not long after Edgar's birth. She struggled on foranother three years, working the East Coast theaters with her three children intow. She was overcome by illness while playing in Richmond, Virginia, where thelocal newspapers rallied to her cause:
To the Humane heart. Onthis night Mrs. Poe, lingering on the bed of disease and surrounded by herchildren, asks your assistance and asks it perhaps for the last time. TheGenerosity of the Richmond Audience can need no other appeal….
Eliza Poe died withindays, more or less as Poe's wife, Virginia Eliza, would die thirty-six yearslater: of tuberculosis, in dire poverty, at the age of twenty-four. When theprosperous Richmond merchant John Allan stepped in, Poe seemed surely rescuedfrom his family history of abandonment, itinerancy, and hand-outs. Mrs. Allanwas doting, and though Mr. Allan was no-nonsense, he was willing to spend onyoung Edgar for a fair return on the investment. Opportunities were offered insociety, at school, and at the family business, though Poe was not legallyadopted. Nor was he much interested, preferring poetry and other habits thatAllan did not like. By the time his guardian died in 1834, thetwenty-five-year-old Poe had run up so many debts and broken so many promisesto reform that he was cut from the very substantial will. Even when attemptingto play the prodigal stepson at Allan's deathbed, he had been booted out of thehouse. Poe would spend the fifteen years that remained moving up and down theEastern seaboard as his mother the actress had done, his talent for writing andhistrionics never quite enough to overcome his darker habits, or his need forcharity.
---
Daybook is contributed by Steve King, who teaches in the English Department of Memorial University in St. John's, Newfoundland. His literary daybook began as a radio series syndicated nationally in Canada. He can be found online at todayinliterature.com.