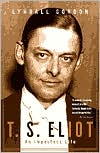 Twenty-five-year-old T. S. Eliot and twenty-eight-year-old Ezra Pound met on this day in 1914, one of the most famous friendships and collaborations in twentieth-century literature beginning with a cup of tea in Pound's Kensington flat. When The Waste Land appeared eight years later, it was dedicated to il miglior fabbro, Eliot using Dante's term for the "better craftsman," and when Eliot died a half century later, Pound elegized him in the Sewanee Review as "the true Dantescan voice":
…Recollections? let some thesis-writer have the satisfaction of "discovering" whether it was 1920 or '21 that I went from Excideuil to meet a rucksacked Eliot. Days of walking—conversation? literary? le papier Fayard was then the burning topic. Who is there now to share a joke with? Am I to write "about" the poet Thomas Stearns Eliot? my friend "the Possum"? Let him rest in peace. I can only repeat, but with the urgency of fifty years ago: READ HIM.
Eliot's "Possum" nickname and Pound's corresponding nickname of "Brer Rabbit" came from their shared childhood enjoyment of the Uncle Remus stories, these popularized in America by Joel Chandler Harris. The two friends would often slip into the Remus dialect in their letters, or exchange poetic ditties, the following from Pound's March 28, 1935 letter to Eliot:
Ez Po and Possum
Have picked all the blossom,
Let all the others
Run back to their mothers…
Both poets enjoyed extempore verse, and biographer Humphrey Carpenter notes that the two collaborated on more than The Waste Land in the early days. Their partnership sometimes went in unexpected directions: when Pound found Eliot's stash of bawdy poems, he wanted to print them in BLAST magazine, but Wyndham Lewis would make no exceptions on his policy of avoiding four-letter words. To their contemporaries, Pound described Eliot as having "more entrails than might appear from his quiet exterior," and as having a special talent for satire. When Eliot started to move away from satire and closer to orthodox religion, Pound regretted the personal and poetic loss, though he could only stand by and "lament the psychosis / Of all those who abandon the Muses for Moses."
---
Daybook is contributed by Steve King, who teaches in the English Department of Memorial University in St. John's, Newfoundland. His literary daybook began as a radio series syndicated nationally in Canada. He can be found online at todayinliterature.com.