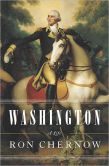 Observe good faith and justice towards all Nations; cultivate peace and harmony with all. Religion and Morality enjoin this conduct; and can it be, that good policy does not equally enjoin it? It will be worthy of a free, enlightened, and, at no distant period, a great Nation, to give to mankind the magnanimous and too novel example of a people always guided by an exalted justice and benevolence. Who can doubt, that, in the course of time and things, the fruits of such a plan would richly repay any temporary advantages, which might be lost by a steady adherence to it? Can it be, that Providence has not connected the permanent felicity of a Nation with its Virtue? The experiment, at least, is recommended by every sentiment which ennobles human nature. Alas! is it rendered impossible by its vices?
–from George Washington's "Farewell Address," published as an open letter in newspapers across America on this day in 1796
In his recent biography Washington, Ron Chernow notes that, while the Farewell Address has its share of partisan politics, it reflects a man who wished to be viewed "a little like Shakespeare's Prospero, stepping off the stage of history" with a blessing and a humble bow:
Though, in reviewing the incidents of my administration, I am unconscious of intentional error, I am nevertheless too sensible of my defects not to think it probable that I may have committed many errors. Whatever they may be, I fervently beseech the Almighty to avert or mitigate the evils to which they may tend. I shall also carry with me the hope, that my Country will never cease to view them with indulgence; and that, after forty-five years of my life dedicated to its service with an upright zeal, the faults of incompetent abilities will be consigned to oblivion, as myself must soon be to the mansions of rest.
---
Daybook is contributed by Steve King, who teaches in the English Department of Memorial University in St. John's, Newfoundland. His literary daybook began as a radio series syndicated nationally in Canada. He can be found online at todayinliterature.com.