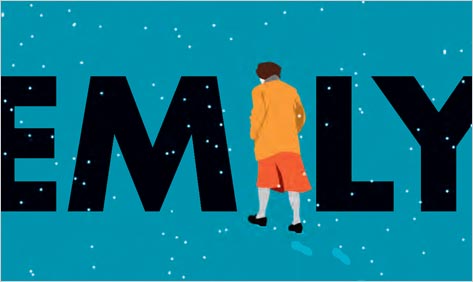 The elderly widow, soldiering onalone after her husband's death, long after her children have grown and movedaway, may not be the stuff of high drama, but it contains a mother lode (so tospeak) of rich material. And why not? Who better to delve into issues ofmortality and values than those nearing the end who, ironically, have plenty oftime on their hands for deep reflection? These women maintain rich inner liveseven as their worlds contract.
Often, asin Clyde Edgerton's hilarious WalkingAcross Egypt (1987)—a personal favorite—plotsturn on an unexpected connection between a dowager and a troubled youngster. Butin Stewart O'Nan's Emily, Alone, a welcome follow-up to his 2002novel, Wish You Were Here, the emphasis, as the titlesuggests, is Emily, toute seule,determined to uphold standards and maintain discipline even as her worlderodes.
O'Nan'snovels, including The Good Wife, which also convincingly capturesa woman's perspective, and Last Night Atthe Lobster, often focus on blue-collarAmerica. Emily, born in 1931 and rescued from the sticks by her marriage toPittsburgh engineer Henry Maxwell, is financially well-off enough to help outher struggling middle-aged children. WishYou Were Here first introduced her a year after Henry's death, grapplingwith family issues—her daughter Margaret's alcoholism and broken marriage andher son Kenneth's fractured dreams—during a gathering at the Maxwells' belovedcottage on Lake Chautauqua in western New York before finalizing its sale.
Emily, Alone takes place six years later. Nearing80, Emily is still going strong both mentally and physically. She still missesthe man who "knew the 18-year-old lifeguard she used to be, and thefashionable grad student, the coltish young mother." She continues to livealone in her meticulously kept Pittsburgh house with her portly, gassy,extremely aged spaniel, Rufus, who according to my calculations, must benearing a record-breaking 20.
The emptiness in Emily's life iscompounded by the distance of her family and the recent death of her bestfriend. Her closest remaining companion is her never-married sister-in-lawArlene, a retired schoolteacher who, despite her alarming driving, is thedesignated chauffeur on their outings to art and flower shows, club dinners,and, increasingly, funerals. When Arlene suffers a small stroke during theirweekly pilgrimage to the Eat 'n Park's two-for-one breakfast buffet, it's awake-up call to Emily, galvanizing her to crank up Henry's outsized Chevrolet.To her surprise, driving makes her feel "part of something largeragain." Her children are shocked when she purchases her first car ever—aSubaru wagon—after careful research on Henry's old computer.
Not muchhappens in Emily, Alone—which is notto say, of course, that the novel isn't full of interest. Like Evan S.Connell's indelible Mrs. Bridge, Emily, Alone deftly (and more lovingly) captures the texture of thethoughts and days of a comfortable American woman who has outlived her primaryrole as a wife and mother—how a crossword puzzle is rationed to last all weekand small chores such as distributing tissue boxes around the house or writingthank you notes assume enlarged importance. Emily is all too aware of herstatic situation, most keenly feeling "her own inertia, her life no longeran urgent or necessary business" during "that gray time of day justbefore the school buses rolled."
Thestrength to endure such an attenuated life proves hardest during the longPittsburgh winter, through which Emily sustains herself with anticipation ofgardening and the promise of holiday visits from Kenneth and Margaret and herfour grandchildren, which are at once disturbingly disruptive to her solitaryroutines yet also all too brief. The highlight of her year, eagerly awaited formonths, remains her annual summer visit to Lake Chautauqua with her wholefamily gathered, now reduced to a single week.
O'Nanbeautifully evokes a woman who "prized, above all, self-reliance" yetrecognizes that she's "outgrown most of her earthly desires," withthe pointed exception of wishing she could see more of her children andgrandchildren. Emily is an endearing character, fussy yet unusually self-awareand sanguine about her own mortality. She struggles to hold her criticism incheck, not just of others—including Mr. Impatient/ Mr. Fatty/ a.k.a. Rufus—butof herself. The result is awarmhearted, clear-eyed portrait of a woman in her dotage who understands thatlife is both awfully long and woefully short, much of it passed in waiting andregret, but never, heaven forbid, about just the past, since "every daywas another chance."