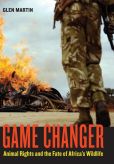 If mountain gorillas are to survive and propagate, far more active conservation measures urgently need to be undertaken. The question remains, is it already too late?

–Dian Fossey, Gorillas in the Mist
Dian Fossey was born on this day in 1932. Fossey was killed in 1985, two years after the publication of her bestselling book about the mountain gorillas of Rwanda. Although her murder has remained unsolved for the past thirty years, it seems likely that Fossey's controversial conservation practices — vigilante punishment of local poachers, for instance — played some part in her death. But her work to save Africa's most celebrated primates may not have been in vain, given the steady growth in colony numbers over the past few years.

The long-term outlook for African wildlife is less hopeful, says Glen Martin in Game Changer (2012). The tone for Martin's book is established in a Chapter 1 interview with Ian Parker, who is a former game warden in Kenya. Parker is not a fan of Fossey or animal rights activism, and he thinks that the gorillas, the elephants, and the continent have bigger problems than poaching and government corruption:
In the past decade, Africa's human population has grown by, oh, something like one hundred million people…. So with a little basic math, you arrive at something like fifty billion kilos of biomass added to the continent. And that's vertebrate, omnivorous biomass, mind you — human beings. More than that, modern humans consume disproportionately more resources than other vertebrates, including humans who had simpler lifestyles. They require not just a subsistence diet; if possible, they'll secure a surfeit of food, of many varieties. And things like cars, air-conditioning, televisions….
---
Daybook is contributed by Steve King, who teaches in the English Department of Memorial University in St. John's, Newfoundland. His literary daybook began as a radio series syndicated nationally in Canada. He can be found online at todayinliterature.com.