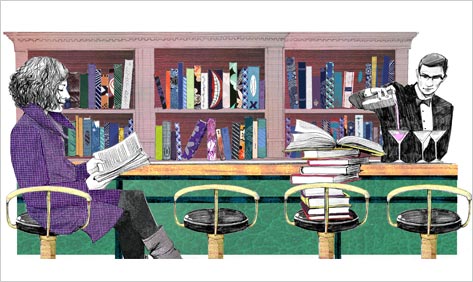 NOTE TO APPLICANTS: As the final step in your application to our age-2, half-day, highly selective nursery school program, please write a personal statement with your reasons for choosing our institution and what you will add to our incoming class. Be sure to write legibly. Thank you.

To the Admissions Committee:

I want to first thank you for considering my application. I feel the need to apologize for how close my submission is to the deadline. I only recently mastered the fine motor skills required to grasp a pencil. But, I assure you, this essay has been near the top of my to-do list for weeks.

Truth is, I'm not one of those toddlers who has spent his entire life dreaming of matriculating at Bluffsworth Academy. Instead, I've dreamed mostly of abstract shapes and colors, and didn't even realize until a few months ago that words and objects were in fact connected. Indeed, for my first year, even with the marketing materials you sent, I barely knew you existed. Between naps and feedings, something had to give — and I regret how woefully behind I fell on examining the mail in a timely fashion.

And then one day Dada happened to mention your impressive caregiver-to-child ratio and Mama was talking about the remarkable capital campaign you just completed to fund the building of a brand new chemistry lab — and of course I had to know more. It was only then that I even noticed my beloved Spunky the Dog wearing a Bluffsworth t-shirt. And if it was good enough for one of my most valued colleagues — well, then of course it was worth my careful consideration. Mama said Spunky had not only gone to Bluffsworth as a young pup, but had even served a term on the Board of Trustees. So had Henry the Bear, Hal the Moose, and apparently all of my closest friends. (I understand why you didn't accept Sophie the Giraffe. Even I can tell that she is not Bluffsworth caliber. It's a shame — but, you know, we try to love her anyway.)

I have to tell you — the more I heard, the more magical it sounded, and I've become thoroughly convinced that Bluffsworth is the perfect place for me to begin my lower-education. Dada said you have Cheerios there! I love Cheerios! And avocado! Oh, if you knew how much I loved avocado, you would sign off on my application in an instant.

But I know it's not just about what I want to get out of Bluffsworth, but what I am able to give back. Right away, let me assure you, in no uncertain terms, that Mama, Dada — and, of course, Gamma and Gamps — know no bounds as far as the lengths they will go to provide for my needs. I'm talking money, not to be coy. I have three sippy cups and what has to be at least six different bibs. Or eight! Who can even count that high? So do not worry about the $40,000/year tuition. I am sure they are good for it.

On the personal side, I don't think you will find another applicant who is as skilled at mouth-aided object identification as I am. I don't mean to brag, but there is over an 80% chance that if I swallow something, it is food. I mean, if there is ever a place to boast about your skills, it's in an admissions essay, right? Please don't think I go around telling people how good I am at determining whether something is edible. I know how to blend in — you know, downplay my special gifts so that my peers don't get jealous and start trying to take my toys. No one takes my toys. My toys are mine.

I also want to let you know that I hope to bring a uniquely cultured perspective to my Bluffsworth class, due to my sincere love of domestic and interneighborhood travel. I have been as far west as the long, gray bridge, and as far north as the big, blue bathtub that doesn't have any walls. How many applicants can say that? I've even seen trees. And, let me tell you, if you haven't seen a tree yet, you are missing something special. They're, like, even taller than Unka Baba — and Unka Baba is pretty darn tall.

Finally, I would be remiss not to mention my love of books. They are delicious.

I thank you for your careful consideration and look forward to joining the next class of leaders at Bluffsworth Academy For The Well-Connected Toddler. And I hope your next nap is as good as mine.

Your New Friend,
Billy Cooper
Find more of Jeremy Blachman's writing at jeremyblachman.com.