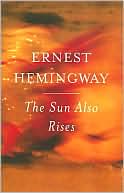 Ernest Hemingway's The Sun Also Rises was published on this day in 1926. The first of Hemingway's major novels, it established his readership, his style, and, through the "You are all a lost generation" epigraph, his position as spokesman. Whatever the epigraph's lineage — Hemingway said he got it from Gertrude Stein, who got it from the owner of a Paris garage, who had reprimand the young mechanic working on Stein's car for not getting the job done on time by telling him that he belonged to a "génération perdue" — it stuck early. In his 1926 review of The Sun Also Rises, for example, John Dos Passos regretted that "instead of being the epic of the sun also rising on a lost generation," his friend's novel was "a cock-and-bull story about a whole lot of tourists getting drunk." As early as 1930, new editions were using the label as front-cover copy, the novel described as one "Wherein the 'lost generation' that followed the war goes to the devil with a smile on the lip but with despair in its heart."

***
The affair between Margot Asquith and Margot Asquith will live as one of the prettiest love stories of all literature.

—Dorothy Parker, reviewing The Autobiography of Margot Asquith for the Oct. 22, 1927 edition of The New Yorker


In skewering Lady Asquith, Parker must have been playing off the ending of The Sun Also Rises, in which Jake Barnes famously dismisses the self-absorbed Lady Ashley:
"Oh Jake," Brett said, "we could have such a damn good time together."
Ahead was a mounted policeman in khaki directing traffic. He raised his baton. The car slowed suddenly pressing Brett against me.
"Yes," I said. "Isn't it pretty to think so."


Parker met Hemingway in 1926 in New York, and was so intrigued by his tales of Paris that she immediately went there, taking the same boat as he did and accompanied by Robert Benchley. Biographer Marion Meade says that the trio played bridge, drank, and dined together at the officers' table, where Parker noted that "Hemingway made a serious production out of consuming saltpeter," which he regarded as "necessary to control sexual appetites."

Another famous Parker quip is tied to this week, this delivered in her October 20, 1928 New Yorker review of A. A. Milne's The House at Pooh Corner, written under her "Constant Reader" pen name. Parker admitted that "to speak against Mr. Milne puts one immediately in the ranks of those who set fire to orphanages," but she felt forced to it by Pooh's confession that he had added the "tiddely pom" to his Outdoor Song "to make it more hummy":
And it is that word 'hummy,' my darlings, that marks the first place in The House at Pooh Corner at which Tonstant Weader fwowed up.
---
Daybook is contributed by Steve King, who teaches in the English Department of Memorial University in St. John's, Newfoundland. His literary daybook began as a radio series syndicated nationally in Canada. He can be found online at todayinliterature.com.