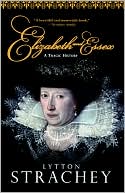 Robert Devereux, Earl of Essex, was beheaded for treason on this day in 1601. Essex's dramatic life, particularly his relationship to Queen Elizabeth I, has been told by book, opera, play, movie, and miniseries; perhaps fittingly, his death was theatrical in all ways.

Earlier in February, at the hire of Essex and his supporters, Shakespeare's theater company had been persuaded to stage Richard II at the Globe playhouse. With a performance on the day before their planned rebellion, the rebels hoped that Richard II would inflame support for their cause. This was a long shot but not impossible — as a play about rebellion and king killing, it had made a stir in high places, causing the deposition scene to be cut from early printings and prohibited onstage. Essex apparently loved the play, had often been seen applauding wildly at it, and was happy to be thought of by his followers as a Bolingbroke-type savior. Elizabeth was sixty-seven years old and well aware that some had now cast her as a weakling, too vulnerable to the designs of her counselors — "I am Richard II, know ye not that?" she is reported to have scoffed to one courtier.

However many attended the Saturday play, very few showed up for the Sunday rebellion. The rebels were disorganized to the point of looking foolish, and the queen's supporters, forewarned by the previous afternoon's Richard II and similar signs, had little trouble containing the planned march through the streets. By Sunday evening Essex was barricaded in his house, burning as many documents as possible before being arrested; on the evening of February 24th, while Shakespeare's company was performing a different play before Elizabeth at court, Essex was having his last meal.

The rebels' fate was not as bad as it could have been: as for most noblemen, the sentence of being "hanged by the neck and taken down alive — your bodies to be opened, and your bowels taken out and burned before your face: your bodies to be quartered — your heads and quarters to be disposed of at her Majesty's pleasure" was commuted to beheading only.
---
Daybook is contributed by Steve King, who teaches in the English Department of Memorial University in St. John's, Newfoundland. His literary daybook began as a radio series syndicated nationally in Canada. He can be found online at todayinliterature.com.