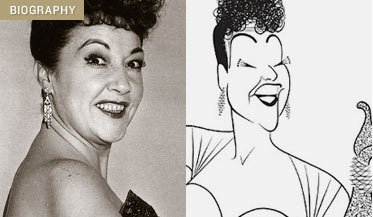 So the other day, I'm watching Sesame Street with my kids and Harvey Fierstein comes on. He's passing out noses to a parade of schnoz-less Muppets, selling the heck out of a slightly altered version of a show tune made famous by Ethel Merman in the Broadway musical Gypsy. "Everything's coming up?noses!" belts Fierstein, punctuating his delivery with the broad arm gestures that were a Merman trademark. "There's no business like the nose business," he concludes, "but that's another story."

One can't help feeling — as a new generation of three- and four-year-olds is unwittingly introduced to her songs and her style — that the lingering effects of Ethel Merman, who died in 1984, are everywhere. And while Fierstein's Sesame Street segment has been in rotation since 2004, the diva to whom he's paying tribute is having a moment: Witness the release this month of two comprehensive, carefully researched Merman biographies: Ethel Merman: A Life, by Brian Kellow, and Brass Diva: The Life and Legends of Ethel Merman, by Caryl Flinn.

Why two Merman biographies? Why now? It may have something to do with what is likely the upcoming centennial of the Broadway legend's birth: Kellow places Ethel Agnes Zimmermann's birth date on January 16, 1908. Flinn is less certain about the year: "Ethel Merman was born on January 16 — in 1906, 1908, 1910, 1911, and 1912," she writes, noting that source material includes varying dates and Merman appears to have done little to clear up the confusion. But if the two biographies differ on a few minor details, conclusions, and opinions — Kellow finds the young Ethel "far from being a stunning beauty"; Flinn contends she was "a very attractive young woman" (both books include several pages of photos, so readers may reach their own conclusions) — the authors agree on at least one thing: During Broadway's golden age, Ethel Merman was its undisputed queen, and to track her career is, in essence, to follow the history of American musical theater.

George and Ira Gershwin, Cole Porter, Irving Berlin, Jule Styne, Stephen Sondheim, Richard Rodgers, Jerome Robbins — Merman worked with them all. Beginning with her breakthrough Broadway moment in 1930's Girl Crazy, when she stepped onto the boards and stopped the show cold with an electrifying rendition of "I Got Rhythm" — Kellow describes George Gershwin bursting into Merman's dressing room afterward: " 'Ethel,' he gasped, 'do you know what's happened? Do you know what you've done?' Ethel didn't quite understand. 'You've just been made a star!' " — Merman routinely thrilled audiences and critics with her tremendous, crystal-clear voice, her impeccable diction, her sparkling vitality, her trademark blend of toughness and vulnerability, of shrewdness and innocence, in shows like Anything Goes, Annie Get Your Gun, Call Me Madam, and Gypsy, among many others.

Kellow's Ethel Merman: A Life is the more disciplined of the two, strictly adhering to the chronology of Merman's life and career, contemplating each show in admirable depth — its origins, its significance for Merman in particular and for musical theater in general. Kellow has interviewed a wide and impressive array of performing artists and theater professionals who worked with Merman, among them Jack Klugman, Jerry Orbach, Stephen Sondheim, Dody Goodman, and Nanette Fabray. What emerges is a compelling portrait of Merman as a dogged, inspired, yet somewhat limited performer (she was famous for delivering her lines face forward, declining to make eye contact with her fellow actors) and as a colleague who could be both caring (she never forgot a birthday) and ruthless (woe unto you if she thought you were stepping on her lines). And Kellow evokes, too, a performer with her share of career disappointments; despite her near-flawless string of Broadway hits and a few appearances on film and TV, Merman never did quite manage to conquer Hollywood.

His portrayal of Merman's private life is less revealing — perhaps because Merman herself was staunchly guarded about her personal affairs. She, like many women of her generation (Merman began her career during the Depression), rigorously kept up appearances, maintaining a cheerful front in the face of personal traumas like her four failed marriages and the premature death of her daughter and namesake, Ethel Jr. Tellingly, her 1978 memoir, Merman: An Autobiography, addresses her unfortunate and lightning-fast (38 days!) fourth marriage with a chapter titled "My Marriage to Ernest Borgnine" that consists of nothing but a single blank page. Funny, yes. Forthcoming, no.

If Kellow's depiction of Merman is as clearly limned and lively as the Hirschfeld portrait that graces his book's cover, Flinn's is as meaty and impishly inviting as the photo of the star depicted on the front of hers. As its length may imply, Brass Diva: The Life and Legends of Ethel Merman is an ambitious, sprawling affair. Where Kellow is concerned primarily with painting as complete and accurate a portrait as possible, Flinn is searching for meaning and motivation — while showing a deep appreciation for Merman's trademark humor: "An entire book could be written of zingers attributed to Merman," she writes in her preface. (And if Flinn occasionally fails to resist the temptation to do just that, well, with a subject who dispensed advice to her granddaughter like "Don't fart higher than your ass," who can blame her?)

But where Kellow looks for the answers, Flinn revels in the questions. Was her era's pervasive misogyny — and specifically Momism, or anti-mother sentiment — a factor in the public perception of the woman who originated the role of Mama Rose in Gypsy? And why has Merman become such a camp icon for gays and lesbians? Flinn digs deep and comes up with some truly thought-provoking theories.

Ethel's "desexed" image — her body "neither erotic nor clumsy" and "seldom the source of much attention" — may have made her "less of a threat to men or to other women," Flinn says. What's more, "omething about the earthy autonomy that Merman conveyed in performance gives her a strong, unconventional sexual edge" that appeals to "gay male 'musical queens' " and "women of all sexualities" who have overlaid "her iconic 'toughness' with various sexual meanings and expectations." And then there's the fantasy offered by those persistent rumors that she'd had an affair with Valley of the Dolls scribe Jacqueline Susann — she didn't, though Susann did have an unrequited crush on her.

In Flinn's view, Merman's status as a gay icon may be primarily rooted in her identification with Mama Rose — the diva who presides over the "gynocentric world" modeled in Gypsy. "Like many other musicals, it is about fantasy and the potentials of people with different worldviews and experiences," she writes. And Merman's "commanding presence" as diva/mother "enables fans to transport the onstage passions offstage, bringing them into her image and all that she seemingly blesses."

Kellow's snappy portrait, Flinn's big ideas — Ethel Merman: A Life and Brass Diva can each satisfy the casual reader or the hard-core Mermanophile. But tackled in tandem, they sing with the power of their subject. Who could ask for anything more?