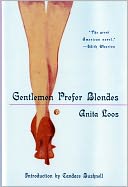 Anita Loos's Gentlemen Prefer Blondes opened on Broadway on this day in 1926, becoming as big a hit there as it was in its other incarnations: the 1925 book, the 1928 and 1953 movies, the 1949 musical, and the sequel, which was titled But Gentlemen Marry Brunettes. The book was a surprise international bestseller, its fan base ranging from a giggling James Joyce to the Russian government, which read it "as evidence of the exploitation of helpless female blondes by predatory magnates of the Capitalistic System." The quotation is from Loos's 1953 "Biography of a Book," used as an introduction in many later editions, and as Loo's messenger: "Note to Khrushchev: Where are my royalties, Tovarich?"



Lorelei's trail from Little Rock to the Ritz in New York, to London ("London is really nothing"), to Paris ("the Eyefull Tower is devine"), to Vienna ("Dr. Froyd said that all I needed was to cultivate a few inhibitions and get some sleep"), to Buda Pest ("in the Central of Europe") is littered with gentlemen whose jaws have dropped as their wallets have emptied. She bags not only the diamonds that are a girl's best friend but Henry H. Spoffard, the husband who will steadily provide more of them, asking no questions. And when the diamonds or Henry prove dull, Lorelei has for intellectual companionship Mr. Gilbertson Montrose, professional scenario writer:
After all, there is nothing that gives a girl more of a thrill than brains in a gentleman, especially after a girl has been spending the week end with Henry. So Mr. Montrose talked and talked all of the way to New York and I sat there and did nothing else but listen. So according to Mr. Montrose's opinion Shakespear is a very great playwrite, and he thinks Hamlet is quite a famous tragedy and as far as novels are concerned he believes that nearly everybody had ought to read Dickens. And when we got on the subject of poetry he recited "The Shooting of Dan McGrew" until you could almost hear the gun go off.
---
Daybook is contributed by Steve King, who teaches in the English Department of Memorial University in St. John's, Newfoundland. His literary daybook began as a radio series syndicated nationally in Canada. He can be found online at todayinliterature.com.