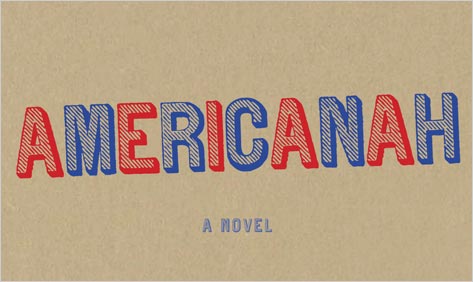 An eclectic and diverse collection of fiction and biography from around the world proved the evening's focus at the 2013 National Book Critics Circle Awards ceremony, held Thursday at The New School in Manhattan. This selection of recipients contained a number of BNR favorites, among them a range of intriguing newcomers. Several of the evening's winners acknowledged when addressing the reception's audience that they considered themselves dark horses in their respective categories.
The Nona Balakian Citation for Excellence in Reviewing went to our own Katherine A. Powers, of the BNR column A Reading Life. In her remarks, Powers spoke eloquently of her early days as a contributor to Boston Magazine, with sage insights into what she considers to be the virtues and ideal tools of a book reviewer, in service to both the curious reader and author's intent.
The NBCC's award for the year's best Fiction went to Americanah, Chimamanda Ngozi Adichie's tale of Nigerian lovers reunited. For more, check out Steven G. Kellman's review of Americanah from 2013, and James Mustich's interview with Adichie from 2009.
Sheri Fink took home the award for Nonfiction for Five Days at Memorial, her wrenching account of a New Orleans hospital's decision-making in the immediate aftermath of Hurricane Katrina. In her review last September, Barbara Spindel called Memorial a "masterful, disturbing account of that period." 
Jonathan Swift: His Life and His World by Leo Damrosch was named the year's finest Biography. In her admiring review, fellow award recipient Katherine Powers wrote: "Damrosch is an ingenious, learned hypothesizer on matters lost to history and an adept guide to Swift's works and what we may call the "known knowns" of his life."
Additional prizes were awarded in the categories of Autobiography (to Amy Wilentz for Farewell, Fred Voodoo: A Letter from Haiti), Poetry (Frank Bidart for Metaphysical Dog), and Criticism (Franco Moretti for Distant Reading).
The first annual John Leonard Prize in celebration of a superior debut book of any genre was awarded to Anthony Marra's A Constellation of Vital Phenomena. Shortlisted for the National Book Award for Fiction, Marra's novel of war-torn Chechnya was earlier this month the recipient of Barnes and Noble's Discover Great New Writers Award for Fiction.  For more from Marra, check out his recent Guest Books recommendations for the Review.