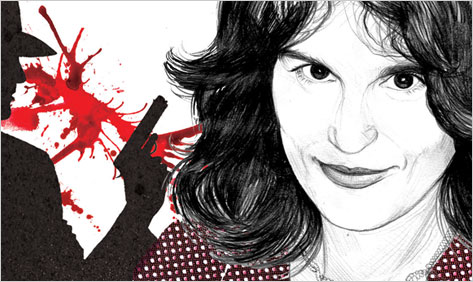 This brand-new column has two linked aims: to talk about new books that I love and hope others will love as well, and to shine a light on unjustly neglected books and authors from the past. My focus will always be crime, but it might not always be fiction, nor always for adults, nor books entirely in prose. That's a lot of ground to cover, so I might as well begin.
The 1970s was a decade of transition for crime fiction. Hammett and Chandler were long gone and the glory days of Gold Medal paperback originals were over, but private eyes (and like-minded sleuths) were resurgent thanks to a trio of men with similar last names (Ross Macdonald, John D. MacDonald, Gregory Mcdonald), not to mention Robert B. Parker, with Chandler-indebted Spenser novels. And who can forget Roger L. Simon's Jewish hippie sleuth, Moses Wine? Patricia Highsmith was expanding The Talented Mr. Ripley into an offbeat and influential series. Agatha Christie would pass on in 1976, and Ruth Rendell and P. D. James would gild their reputations as the new co-queens of British crime.
But only a handful of individual books stand out today as crime fiction game-changers. George V. Higgins's The Friends of Eddie Coyle (1970) added an extra literary layer to the con novel; James Crumley's The Last Good Kiss (1978) influenced countless writers and will be remembered forever for its opening line, quoted often in obituaries of the author.* And then there's the case of William Hjortsberg, who, in Falling Angel, combined hard-boiled pastiche with the supernatural to take the detective novel into a new realm in more ways than one.
Like Crumley, Hjortsberg has spent the bulk of his life in Montana (and a lot of it at the bar, apparently), and came to crime fiction almost by accident. Before entering the genre lists, Crumley wrote the still highly regarded Vietnam novel One Count to Cadence (1969), and Hjortsberg penned three comic novels (one with a science fiction bent) whose collected sales were not so hot. Like Crumley, when he did try his hand at P.I. fiction with Falling Angel, published the same year as The Last Good Kiss, Hjortsberg tossed off his own killer opening line: "It was Friday the thirteenth and yesterday's snowstorm lingered in the streets like a leftover curse."
Just a few pages later, Harry Angel is on his way to lunch with one Louis Cyphre, a man of uncertain nationality (although he carries a French passport) to take on a lily of a missing-persons case: onetime swing band crooning sensation Johnny Favorite, last heard from during the thick of World War II, in which the Midwest-born had Angel served in before washing up in New York to start fresh as a detective.
Though written in the 1970s, Falling Angel is firmly set in 1959. When Angel visits the New York Times offices on 43rd Street, his reporter source comments that "this place has been gloomy as hell" ever since Pulitzer Prize-winning investigative reporter Meyer "Mike" Berger "died last month." 666 Fifth Avenue, built in 1957 and now owned by New York Observer publisher Jared Kushner, is described in the book as "an unhappy marriage of the International Style and our own home-grown tailfin technology," "a million square feet of office space sheathed in embossed aluminum panels."
Hjortsberg explained his time period choice in the accompanying afterword:
Nineteen fifty-nine seemed an obvious choice for the period. I had gone off to college…the previous fall and eighteen years later trusted only those memories from when I lived in the city. And, although perched on the cusp of the sixties, the period felt more firmly rooted in the past, still locked into the values of post-World War Two America. Eisenhower was president. Sputnik signalled a missile gap from outer space. Cars sported tail fins and acres of chrome. The rock-and-roll era had dawned. By the bicentennial, 1959 seemed an age lost to the mists of the past.
It may not have been, as Fred Kaplan's recent book proclaims, "The Year That Changed Everything," but 1959 and the years immediately following clearly form an era is which more is going on than met the eye a half century ago (witness the success of the television show Mad Men and contemporary fascination with its style and cultural imagery). Just as New York City's attempts at reinvention and gentrification can't quell the ghosts of history, so, in the ouroboros-like structure of novel, does Harry Angel fail to outrun his own past.
Hjortberg's fast-unspooling novel unfolds against a rich tapestry of characters and images. There's murder victim number one, a shady doctor that Angel finds shot through the right eye, "giving him the goggling stare of a tropical fish." There are the Krusemarks, the family Johnny almost married into: father Ethan a rich real-estate baron and daughter Maggie a debutante with a yen for tarot (and a complicated relationship with her missing fiancé). There are freaks at Coney Island and voodoo worshippers in Harlem, slaughtered goats in city parks and butchered humans in Manhattan apartments. And then there is Epiphany Proudfoot, whose name befits a regal queen and who just might offer Angel a chance at redemption in the form of romantic love.
In his introduction to the 2004 edition of Falling Angel published by Millipede Press, Crumley points out that "if carefully read, this is a novel without surprise. Everything is carefully set up. But not without suspense, suspense hanging like a black cloud over every one of Harry Angel's movements throughout the story." That black cloud is personified in Cyphre, one of a "city of outsiders" who, during their initial meeting, tells Angel he's "just a traveler," signalling his true intentions as the private detective's dangerous and cunning adversary. Theirs will be a battle of words and hidden meanings against the background of bloody gore and pagan rites. When the final, famed, plot twist comes — even on a second reading, it had the power to make me gasp aloud — Harry Angel not only understands that the truth about Johnny Favorite is embedded in the perennially-waged war between good and evil, he also learns — too late — that "no matter how cleverly you sneak up on a mirror your reflection always looks you straight in the eye." It's a lesson that shines brilliantly from Falling Angel, a book I consider to be one of the most perfectly constructed detective novels ever written.
*Editor's note: "When I finally caught up with Abraham Trahearne, he was drinking beer with an alcoholic bulldog named Fireball Roberts in a ramshackle joint outside of Sonoma, California, drinking the heart right out of a fine spring afternoon."
---
Sarah Weinman writes "Dark Passages," a monthly online crime fiction column for the Los Angeles Times, and blogs about the genre at Confessions of an Idiosyncratic Mind (http://www.sarahweinman.com.)