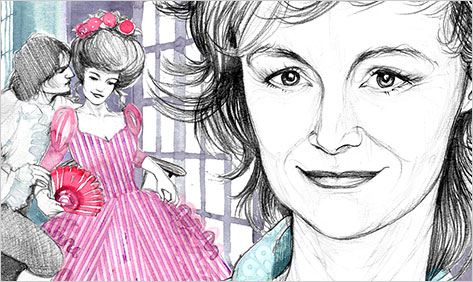 Love is "an ever-fixed mark," Shakespeare declared, quite a while ago, "that looks on tempests and is never shaken." That's all very well, but where would Romeo and Juliet have been without warring parents? One has to wonder whether that relationship would have survived a second or third masked ball, given Romeo's capricious affections. My point is that a good tempest now and then, particularly one thrown up by a family member, has the power to turn what could have been a perfectly nice but short-lived love affair into a commitment capped with vows. All five romances this month feature a tempest of one sort or another, brought about by a family member. Mothers, fathers, siblings, and children all have the ability to derail a relationship — or transform it into the kind of loyal, passionate love that blooms in the face of adversity.

Elizabeth Hoyt's Scandalous Desires is a masterpiece of a story that brings together a puritanical widow named Silence and Mick O'Connor, a pirate king who likes to lounge on a throne surrounded by trunks of fur, silks, and treasures from every corner of the globe. Normally a woman like Silence wouldn't tolerate such a reprobate's presence…were it not for her adoration of an orphan child called Mary Darling, who turns out to be the spitting image of Mick himself. Mick won't allow Mary to live anywhere other than his lair; his enemies will threaten the child. So Silence makes the wrenching choice to stay with Mary, first losing her reputation and then her heart to the charming, dissolute, and altogether ruthless Mick. Mick has more than a touch of the great pirate Captain Hook (Hook had forget-me-not eyes, and Mick has "all the seductive allure of Satan"). However, the seduction of Silence doesn't stem from Mick's beautiful eyes but from their fights: they battle about philosophy and family, ethics and faith, and their complicated lives. For me, this book was one of Elizabeth Hoyt's finest…and that's really saying something about a novel from one of our best writers of historical romance.

One of the pleasures of this month's books is that not only did Elizabeth Hoyt outdo herself, but so did Kristan Higgins. Her books are funny and poignant, seemingly the opposite of Hoyt's haunted, intense novels. Yet in Until There Was You, Higgins is, like Hoyt, writing at the very top of her game, and the result is an utterly satisfying, beautifully written romance. Posey Osterhagen is one of the most interesting heroines I've read in a long time. She's skinny as a rail, funny, eccentric, and overlooked. She hasn't truly been in love since the days of her unrequited passion for Liam Murphy, the town bad boy, so she lavishes affection on her galumphing dog, her friends, and her family. At least, until Liam comes back. But it turns out he's no longer the reckless ne'er-do-well (albeit with a sweet heart) who used to swagger around their high school. His beloved wife died of leukemia three years earlier, leaving him the single parent to a teenage daughter. He's forgotten how to enjoy himself, caught up in a morass of rigid parenting rules and fits of near-OCD anxiety. Only Kristan Higgins could make these two odd characters feel so charming, and their love affair so necessary, that the reader can't bear the idea that the relationship might founder. When Liam's custody of his daughter is threatened, he promptly dumps Posey, and it's to Kristan's credit that this wrenching, humiliating scene evokes our sympathy for both characters. And makes the pages turn faster and faster, until Liam finally realizes that he has to fight for Posey as fiercely as he fights for his daughter.

The family complication in debut author Jessica Sims's Beauty Dates the Beast stems from the fact that the heroine's sister Sara tends to sprout fur when she gets upset: in short, she's a rogue werewolf, hiding her furry tendencies from other local shape-shifters. Bathsheba, meanwhile, is an entirely normal human who happens to work for a dating agency that caters to the paranormal crowd. Employees — especially humans — are strictly forbidden to date the agency's clients…but what's a girl to do when a super-powerful were-cougar demands that she produce the date he was promised? Bathsheba tries reasoning with Beau Russell, leader of the were-cougar clan, to no avail. She ends up going on that date herself. Besides the untidy and unwelcome fact that she is human, she's desperate to conceal Sara's propensities, because if Beau finds out, Sara will be handed off to a voracious, and short-on-females werewolf clan. Bathsheba will do anything to protect her little sister — as Beau discovers, along with the disconcerting realization that she's the one person in the world whom he can't bend to his will. The makings of a great blind date!

Beauty Dates the Beast is a wickedly funny kind of novel, largely because of Bathsheba's and Beau's marked dissimilarities (starting with their genes), and Sandra Hill's The Very Virile Viking is another: an unrepentantly funny romance about two people whose differences stem not from genetics but from epochs. The hero is a Viking named Magnus Ericsson, who lives in the Norselands around 999. That is, until his longship shows up in a fake lake (complete with a wave machine) in Hollywood, in clear sight of a movie director searching for a new male lead for his Viking-esque feature. Angela Abruzzi, meanwhile, is desperately juggling a job as a real estate agent to the rich and famous, a failing vineyard, and a possible movie location deal with the aforementioned director. Not only does she curl her lip at the first sight of Magnus and his broadsword, but his boatload of children appalls her ("any man who felt the need to reproduce himself nine times over was a pig, pure and simple"). But she succumbs to the director's bribery and lures Magnus and the children to her vineyard so that Magnus can become a movie star. Magnus, on the other hand, has all the arrogance of a medieval Norseman, which includes an unfortunate tendency to address Angela as "wench." He finds it difficult to find time to woo her, since his pack of children are busy discovering modern delights such as cotton candy and temporary tattoos, but he somehow manages. The Very Virile Viking offers laugh-aloud, sexy silliness and a very sweet love affair between polar opposites — just the kind of reading to soothe you after a hard day at work.

The hero in Maya Banks's Never Love a Highlander may not be catapulted into modern times, but he has all the arrogance of a Viking — and his new wife is no docile maiden, ready to blindly follow her laird. Rionna McDonald is the kind of lass who can't imagine submitting to a husband, even after she finds herself married to Caelen. In fact, the morning after his wedding, Caelen wanders into the courtyard and discovers two people fighting furiously — one of whom turns out to be his wife. Rionna doesn't appreciate Caelen's dictatorial reaction ("You'll not indulge in such activities again"). But dissension between the newlyweds is not their biggest problem; Rionna's disgruntled, dishonorable father stirs up trouble wherever he can. I adore marriage-of-convenience stories, and this is a terrific one. Caelen and Rionna battle it out with a passionate intensity that turns Highlander into a tale reminiscent of the early novels of Julie Garwood. Rionna's father threatens the relationship, but not as much as Caelen's stubbornness does…which means that the moment he tells Rionna "There is not a single part of my heart or soul that you do not own" is hard-won — and wonderfully rewarding.