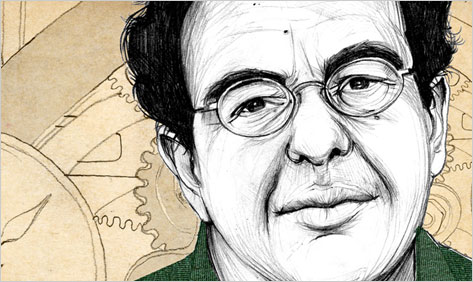 "At the end of the season of sorrows comes the time of rejoicing."

That is the opening line from "Passion Play," the first professionally published story by Roger Zelazny, one of science fiction's most innovative, accomplished, honored, distinctively voiced, and bemourned authors, and there could be no more appropriate time to cite it than now.

Since Zelazny's premature death from cancer in 1995 at age 58, several generations of new readers — as well as veteran fans, of course — have been denied easy access to his out-of-print work, a corpus including some three dozen singleton novels and about a dozen story collections. Aside from an omnibus edition of his ten ever-popular Amber books and a recent reprint of Lord of Light, his Hugo-winning third novel from 1967, the overwhelming majority of Zelazny's fiction has been swamped in the wake of his mortality: a fate that so often unjustly overtakes even the most popular and deserving of writers.

But one of the field's premier independent publishers, NESFA Press, has just embarked on a six-volume set, The Collected Stories of Roger Zelazny, consolidating all of Zelazny's fiction shy of novel length, as well as all his poems and non-fiction, chronologically sorted. (Available now, Volume One is titled Threshold and Volume Two is Power & Light. ) Story notes and annotations, as well as fresh biographical and critical matter, round out the enterprise, which resurrects many obscure minor gems in addition to the canonical stories. Additionally, a long-lost trunk novel by the writer — The Dead Man's Brother — has just been issued as part of the Hard Case Crime imprint.

In short, the time of sorrow for Zelazny fans is over, and the rejoicing can begin.

But before diving into this feast, let's take a moment to praise the publishers. These new books exist only through the passion and diligence of fans who have stepped in after large commercial and university publishers have defaulted. Hard Case Crime is essentially the vision of one man, Charles Ardai. And while NESFA is a collaborative effort, particular credit must go to the individual editors for the Zelazny set: David G. Grubbs, Christopher S. Kovacs and Ann Crimmins, whose researches have been assiduous.

When "Passion Play" appeared in the pages of Amazing Stories for August 1962, it caused no special exclamation. The SF scene was torpid, with such groundbreaking achievements of the 1950s as Alfred Bester's jazzy novels absorbed yet unreplicated, and no particular trends or movements in sight other than an understated program of increasing SF's general literary competence.

Zelazny's modest debut certainly did not instantly overturn this stasis, being a simple yet vivid vignette about robot inheritors of Earth ceremonially replicating a historical human tragedy. But the piece exhibited in utero the hallmarks of Zelazny's mature career: the usage of colorfully poetic language; a concern with both mythological motifs and pop-culture icons; an air of romantic fatedness; employment of the techniques of ellipsis and enigmatic narrators; a fondness for fictional game-playing.

For the next twelve months or so, the genre magazines hosted a steady stream from this new writer of what Zelazny himself later called "gimmick stories." These journeyman tales were competent clever constructions revolving around simple conceits, inventive, facile but traditional.

But then, in November 1963, came "A Rose for Ecclesiastes." (The editors of Threshold wisely foreground this story as their initial hook, before presenting the juvenilia and the lesser published efforts.) This first-person account of an egocentric poet assigned to catalogue and translate the literature of the dying Martian race, who manages simultaneously to seduce and be seduced by art and alien beauty, arrived as a bolt "out of nowhere," in the words of Grandmaster Robert Silverberg in his introduction to this volume.

Allusive, lyrical, colorful, emotional, intellectual, featuring a Byronic hero in a jaded world, this story managed to treat the standard tropes of SF with respect and intelligence, while infusing them with freshness and novelty — an air of mature worldliness arising from a familiarity with both great literature and the culture at large. The tale reads as if T. S. Eliot had collaborated with Leigh Brackett, of Planet Stories fame and such sagas as "Queen of the Martian Catacombs."

The readers responded with acclaim and award nominations, launching Zelazny on a meteoric few years of stellar production, years in which multiple stories of his would cluster on the awards ballots, when he would receive vast ovations at conventions, and during which the New Wave movement in SF would burgeon and adopt Zelazny as one of its stars and standard-bearers.

No prodigy, the writer was twenty-six years old when all this began (although "Rose" had actually been written and shelved in 1961), a civil servant with a good college education who had dreamed of being a poet, but who turned his hand for practical reasons to science fiction. (Zelazny's biography is explored at length in these first two books, in parallel with his stories, up until 1969. Likewise, we can sample his verse, which is generally amusing and adroit but undistinguished, proving his career decision to have been a wise one.) His favorite poet was Hart Crane, he loved Thomas Wolfe and Ernest Hemingway, and his work reflected the High Modernist agenda with a thick slathering of Romanticism. Classical references blended with pop-culture ones, and the zeitgeist was filtered through a scrim of historical awareness and aesthetic aspirations.

Zelazny was never a postmodernist, in the sense that his fellow New Wave traveler J. G. Ballard was. His formalistic experiments were minimal, his love of character and symbolism and narration and mimesis too strong. His genius was to weld Modernism so seamlessly to the fantastical, and to infuse some canny adult observations about life into the genre's more outrageous speculations.

Threshold contains at least three additional masterpieces: "The Graveyard Heart," in whichLa Dolce Vita partygoers decadently bestride the centuries; "The Doors of His Face, the Lamps of His Mouth," an existentialist fishing trip on Venus; and "He Who Shapes," a Keatsian foray into high-tech psychological probing.

As might be expected, Volume Two, Power & Light, only ups the ante, as Zelazny hits his early stride. Such vibrant, still innovative rides as "The Furies," "This Moment of the Storm," and "The Keys to December" all culminate in the novella "…And Call Me Conrad," the basis for Zelazny's first book, This Immortal (1966).

Reading this stirring tale, alternately meditative and action-packed, under its original Melville-allusive title — with its deathless, grotesque superman forlornly haunting the radioactive ruins of Earth as he strives to mediate between human freedom fighters and their alien masters — provides a quintessential Sixties thrill, like watching some coeval film by Fellini or Antonioni or Jodorowsky. This novel fully introduces Zelazny's last major theme: the cursed and blessed plight of the demiurgic superhuman. At this exact point, Zelazny's writerly armory becomes fully stocked for such triumphs as Lord of Light and, arguably, for a late-career descent into self-parody and repetition.

Reading "…And Call Me Conrad" also solidifies (in this reader's mind at least) Zelazny's place in what might be dubbed the Great American Hipster Lineage, those with-it bards who blended the happening and the highbrow. He's channelling Lord Buckley and Ernie Kovacs, Charles Mingus and Lenny Bruce, Spike Jones and Steve Allen, Jack Kerouac and Stan Lee. In retrospect, Zelazny and the last-named auteur seem especially to resonate. Lee's Thor, with his trademark "I say thee nay!" is but a few four-color panels removed from Zelazny's Sam, Lord of Light's smart-aleck Buddhist deity.

When Zelazny died, the newszine Locus printed a page or two of photos from his life. One shot from the period covered in these volumes depicts a beaming, Belmondo-handsome Zelazny on a couch in some convention setting, being adored by a blonde Tippi Hedren lookalike. He's sexy, proud, powerful, charismatic, happy — yet underneath, a tad sad and humble. The best of the charming and adventurous stories in these two books radiate the same air of deep melancholy temporarily forestalled by the application of life and art.

It would be nice to report that The Dead Man's Brother lives up to the quality of the seminal short stories, but such, alas, is not the case. This trunk manuscript, a thriller-mystery involving the theft of a few million dollars from the Vatican to fund Latin American revolutionaries, is curiously listless and mundane. Although it was written circa 1970, along with more zesty and accomplished work such as Nine Princes in Amber, the book suffers from a surprising number of defects. Zelazny was always strongest in first-person narration, but the voice of Ovid Wiley, art-dealer and master thief, is bland and unexcitable, even under torture. His love interest, Maria, is generally reactive rather than cleverly feisty. And the globe-trotting money-chase strikes one as perfunctory. Although the novel retains immense interest to dyed-in-the-wool Zelazny fans and scholars, and although it reads passably well on a level of sheer plot, it seems unlikely to stand out to the average Hard Case Crime reader already enjoying masterful fare from such names as Goodis, McBain, Woolrich, Westlake and Block.

Even Homer nodded. Zelazny's failure with this trunk novel — a failure he must have realized, given his lack of attempts to secure publication for it during his lifetime — would be followed by a close return to his glorious prime, when his fantastical conceits so neatly mirrored the turbulent souls of his protagonists.