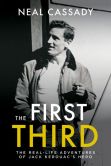 Neal Cassady died on this day in 1968, four days before his forty-second birthday. The death of "Fastestmanalive" in the Mexican mountain town of San Miguel de Allende is buried in legend, but the direct cause seems to have been a drug overdose. Cassady was found unconscious beside the local railway line, about a quarter-mile from San Miguel and fifteen miles from Celaya, where he was apparently heading in order to retrieve the "magic bag" he had stored at the railway station there (this included his Bible and his old letters from Ginsberg and Kerouac). The idea that Cassady was trying to count the railway ties between stations — even that his dying words were "64,928" — is untrue, extrapolated from the Ken Kesey short story, "The Day After Superman Died." The Mexican medical certificate states only that Cassady's death was caused by "general congestion"; the February 4 newspaper report from Mexico described him only as "a former railroad conductor and long associate of prominent members of the beatnik and hippie generations." Below, some other attempts to describe and pay tribute:
The Grateful Dead's Jerry Garcia: "Neal was an authority on subjects that hadn't been invented yet."

Mountain Girl (Carolyn Adams, one of the Merry Pranksters): "Neal felt when he was at the wheel of a car that his eyes were registering events ahead of the car at a certain rate and he was perceiving them at a certain rate and it takes a certain number of microseconds for the impulses to travel from the eyes to the brain and get processed and get down to the hand to turn the wheel. He was very sensitive to those tiny fragments of time. He was intimate with time."

John Clellon Holmes (in Go, 1952): "…'keep a step ahead, keep your mind ahead' — (I heard his insistent voice) — 'don't butt your dumb head against their walls, man! — look for doors, and then GO — Just leave them snarled up in their worries, their motives — it's their kick man, it's their dreary high — But, listen — never knock the way the other cat swings.'"

Jack Kerouac (in the last lines of On the Road): "…the evening star must be drooping and shedding her sparkler dims on the prairie, which is just before the coming of complete night that blesses the earth, darkens all rivers, cups the peaks and folds the final shore in, and nobody, nobody knows what's going to happen to anybody besides the forlorn rags of growing old, I think of Dean Moriarty, I even think of Old Dean Moriarty the father we never found, I think of Dean Moriarty."
---
Daybook is contributed by Steve King, who teaches in the English Department of Memorial University in St. John's, Newfoundland. His literary daybook began as a radio series syndicated nationally in Canada. He can be found online at todayinliterature.com.