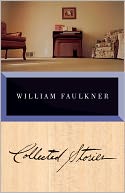 On this day in 1919, twenty-two-year-old William Faulkner published his first prose, a short story entitled "Landing in Luck." It is a lighthearted tale about an air force cadet's first solo flight, and it gives little sign of the style or fame to come, but the autobiographical details behind its telling are pure, playful Faulkner.
Having been rejected by the U.S. Army because of his height (just under 5'6″), Faulkner decided to try to enlist in the Canadian RAF, under pretence of being an Englishman. Preparations for this were elaborate and unlikely — weeks of being tutored in the rolling British r, reference letters posted overseas from an invented vicar named Reverend Mr. Edward Twimberly-Thorndyke — but in the summer of 1918 he began his war service in Toronto. Judging by his training notebooks, Cadet Faulkner from Finchley, Middlesex, England, was attentive to the specifications of the Curtiss "Jenny" and the Sopwith Camel; judging by his mates, Bill from Oxford, Mississippi, liked to entertain "with a wealth of unprintable Limericks which he related frequently in his delightful Southern accent," or with late night drill practice on the Toronto sidewalks, calling out commands for himself and then, against all odds, executing them smartly.
With the war over just a few months later, many biographers doubt that Faulkner ever did get airborne, though he told his brother that, during the relaxed final weeks of training, he sometimes flew solo, but for "the crock of bourbon in the cockpit." His "nearly perfect loop" was spoiled when "a hangar got in the way and I flew through the roof and ended up hanging on the rafters" – even trying to drink the bourbon while hanging upside down, as some later tellings would have it.
In "Landing in Luck," published a year after such a flight might have happened, Cadet Thompson has a similar misadventure, ending upside down but miraculously alive after his crash landing. Thompson pretty much had his eyes closed throughout the miracle, but when his instructor congratulates him on having saved himself with "a trick many an old flyer couldn't do," he revises his estimation of his skills upwards. Later that evening, he gives his talents an enthusiastic airing at the local drinking establishment, though they do not fly: "That guy? That guy…?" say the other cadets. "Every time he goes up they have to get a gun and shoot him down. He's the 'f' out of flying. Biggest liar in the R.A.F."
---
Daybook is contributed by Steve King, who teaches in the English Department of Memorial University in St. John's, Newfoundland. His literary daybook began as a radio series syndicated nationally in Canada. He can be found online at todayinliterature.com.