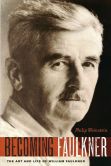 On this day in 1932, thirty-four-year-old William Faulkner began his off-and-on career as a screenwriter, reluctantly (and just barely) reporting for work in Hollywood. Faulkner had already published four of his Yoknapatawpha County novels, including The Sound and the Fury and As I Lay Dying, but he was far from popular success or financial security. Also, he had recently married, and recently bought Rowan Oak, his rundown antebellum mansion in hometown Oxford, Mississippi. MGM's offer of a six-week contract at $500 a week must have looked attractive, given that Faulkner's bank account was so overdrawn that the clerk in the local sporting-goods store had just refused to honor his three dollar check.
As told by biographer Joseph Blotner, Faulkner's first days on the job were not promising. He arrived in Hollywood on a Saturday, not long before quitting time. His boss, Sam Marx, noticed that he had been drinking, and that he had a bleeding cut on his head. Faulkner said he had been hit by a cab while changing trains, but that he was fine and wanted to get right to work:
"We're going to put you on a Wallace Beery picture," Marx told him.

"Who's he?" asked Faulkner. "I've got an idea for Mickey Mouse."
After explaining that Mickey Mouse films were made at Disney Studios, Marx had his office boy take Faulkner to the screening room to see Beery as a prizefighter in The Champ, as the new film, Flesh, was to feature Beery as a wrestler. Faulkner did not want to watch, preferring to talk to the office boy about dogs; soon he walked out, saying that he knew how the story was going to end. When alerted, Marx initiated a search, but Faulkner couldn't be found. When he showed up again, nine days later, he explained that he had been wandering in Death Valley, but that now he really was ready to work.
By autumn Faulkner was back home again, working on his own writing, "eating watermelon on the back porch and watching it rain." His letters contain many good-riddance asides, though one wonders if a squabble over his contract would have MGM "coming down here and taking a tithe of my pigs and chickens and cotton."
---
Daybook is contributed by Steve King, who teaches in the English Department of Memorial University in St. John's, Newfoundland. His literary daybook began as a radio series syndicated nationally in Canada. He can be found online at todayinliterature.com.