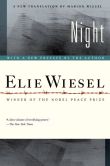 After the war we reassured ourselves that it would be enough to relate a single night in Treblinka, to tell of the cruelty, the senselessness of murder, and the outrage born of indifference: it would be enough to find the right word and the propitious moment to say it, to shake humanity out of its indifference and keep the torturer from torturing ever again.… We thought it would be enough to tell of the tidal wave of hatred which broke over the Jewish people for men everywhere to decide once and for all to put an end to hatred of anyone who is "different" — whether black or white, Jew or Arab, Christian or Moslem — anyone whose orientation differs politically, philosophically, sexually. A naive undertaking? Of course.
–from Elie Wiesel's 1986 Nobel Peace Prize lecture; Wiesel was born on this day in 1928; and on this day in 1946 the verdicts in the first of the Nuremberg War Crimes Trials were registered — 3 acquittals, 7 prison terms, 12 death sentences for the Holocaust that Wiesel survived
---
Daybook is contributed by Steve King, who teaches in the English Department of Memorial University in St. John's, Newfoundland. His literary daybook began as a radio series syndicated nationally in Canada. He can be found online at todayinliterature.com.