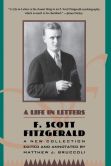 Once one is caught up into the material world not one person in ten thousand finds the time to form literary taste, to examine the validity of philosophic concepts for himself, or to form what, for lack of a better phrase, I might call the wise and tragic sense of life. By this I mean the thing that lies behind all great careers, from Shakespeare's to Abraham Lincoln's, and as far back as there are books to read — the sense that life is essentially a cheat and its conditions are those of defeat, and that the redeeming things are not "happiness and pleasure" but the deeper satisfactions that come out of struggle. I think that the faces of most Americans over thirty are relief maps of petulant, bewildered unhappiness.
–F. Scott Fitzgerald, born on this day in 1896; the comments are excerpted from a letter he wrote to his daughter, Scottie, ten weeks before his death in 1940
---
Daybook is contributed by Steve King, who teaches in the English Department of Memorial University in St. John's, Newfoundland. His literary daybook began as a radio series syndicated nationally in Canada. He can be found online at todayinliterature.com.