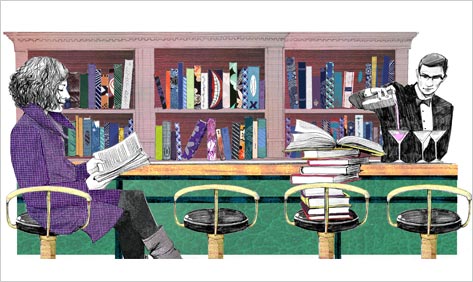 SkyMall
vol. 1, no. 1
Fall, 1903
This is your captains speaking: These are exciting times indeed. With the advent of controlled, powered, and briefly sustained heavier-than-air human flight, men, women, and children will be able to travel distances of up to 250 feet in a matter of seconds at altitudes of almost a dozen feet above the ground! And what better way to spend those heady moments in defiance of gravity than by shopping for unique items that we've chosen especially for you! — O & W.
• NEW! Ever wanted to measure your heart's electrical conduction system? Now you can!
For entirely too long, it was impossible to detect electrical impulses generated by the polarization and depolarization of cardiac tissue, but now it's as easy as immersing each of your limbs into containers of salt solutions! Far superior to 1873's Lippmann Capillary Electrometer, Dutchman Willem Einthoven's innovative "ElectroKardioGraph" represents the very latest in technology to measure the rate and regularity of heartbeats, not to mention the size and position of the heart's chambers, the presence of any damage to the heart, and the effects of drugs used to regulate the heart. Comes with four starter salt-solution-immersion packets; additional immersion packets sold separately. Some assembly required. Patent pending.
EKG101A ElectroKardioGraph $99.99
EKG101B Replacement string galvanometer $9.99
• NOVEL! A "bear" necessity for kids of all ages!
It's the soft, cuddly toy inspired by a political cartoon and endorsed by the President himself—"Teddy's bear"! The Ideal Novelty and Toy Co. manufactures the most adorable and agreeable traveling companion, covered in tawny mohair fur and adorned with realistic eyes, nose, and claws. So cute, you might not be able to bear it!
POTUS26 Teddy's bear $1.99
• COLORFUL! Mark our words: Chalk + oily paraffin wax = fun!
Another one for the kids: They're called "crayons," and they'll keep tykes busy for hours—the artistic ones even longer! The basic box from Binney & Smith Company contains eight safe, high-quality, paraffin wax sticks suitable for drawing on almost any surface, although you'll probably want to limit the creativity to paper. Assorted colors include barnside red and carbon black. Mostly non-toxic; semi-flammable.
CRYLA8 Box of eight crayons 5¢
• ORIGINAL! Show your team spirit in advance of the first "World Series"!
The matchup the country demanded begins on October 1, when the Boston Americans of the American League face off against the Pittsburgh Pirates of the National League in the first World Series of Major League Baseball, a best-of-nine-games matchup to determine the very best "America's pastime" team until, possibly, next year. But even if you can't make it to Huntington Avenue Grounds or Exposition Park, you can make your loyalties known with a full-color pennant, suitable for flying just below the noble 45-star flag of the United States of America on any pole or mast! 100% wool. Double stitched. 36 inches long. No refunds after October 13, 1903; no exchanges after Game 5.
MLBWS1A Boston Americans pennant $4.99
MLBWS1N Pittsburgh Pirates pennant $4.99
• CLASSIC! Ready… aim… shoot—at home: the weapon made famous in the cinema!
This winter will bring the release of the film already being hailed as "absolutely the superior of any moving picture ever made" and a "faithful imitation of the genuine 'Hold Ups' made famous by various outlaw bands in the far West…"—it's The Great Train Robbery! An unprecedented twelve minutes long, made on a budget of $150, the "movie" is a milestone. When you've seen it, you'll want to relive it—especially the climactic final scene, which we won't describe here. (We don't want to spoil it for anyone!) Suffice it to say, though: You'll need a Colt Single Action Army revolver—the "Gun That Won the West"! Cartridges sold separately. Not recommended for the fair sex or children under 12.
CLT45 Single Action Army revolver Telegraph for price.
• LOOK! Get the hang of this creative contrivance without losing your shirt!
If you've ever gotten to your place of employment—be it the bank, the meatpacking plant, or the shirtwaist factory—and went to hang your coat on one of the hooks provided by management only to find that your colleagues have claimed them all, then you know the hardship that Albert J. Parkhouse faced when one morning earlier this year he arrived to work at the Timberlake Wire and Novelty Company in Jackson, Michigan. Irritated but inspired, Parkhouse picked up some wire at hand and fashioned it into what Timberlake is now selling as the Wire Hanger. Lightweight and exceptionally thin, these admirably simple devices will quickly replace the bulkier wooden and whalebone hangers in your closets and your heart.
TWNC2 Box of 48 wire hangers $3.15
• STATE-OF-THE-ART! The "most reliable machine in the world"!
The Ford Model A is the first and best car produced by Ford Motor Company of Detroit, Michigan. This mechanical marvel comes as a two-seater runabout or four-seater tonneau model with an option to add a top. The horizontal-mounted flat-2, situated amidships of the car, produces a powerful 8 horsepower! Standard with a "planetary transmission" fitted with two forward speeds and reverse, the automobile weighs just 1,240 lb and can zoom to a top speed of 28 mph—almost enough to take flight! 72-inch wheelbase, band brakes. Available in any color, as long as it's red.
FMCMA1 Runabout $750
FMCMA2 Rear tonneau (two seats + rear door) $100
FMCMA3 Rubber roof $30
FMCMA4 Leather roof $50
• FREE! Wear your enthusiasm… with sleeves.
Make "plane" your excitement about the new age of aeronautics with this "union suit" that reads, "I've Got the Wright Stuff!" across the breast. 100% fine cotton yarn. Sizes S through XXL. A $1.20 value, yours at no cost with any purchase, while supplies last.
To purchase valuable Matthew David Brozik merchandise at low, low prices, visit matthewdavidbrozik.com. Satisfaction more or less guaranteed.