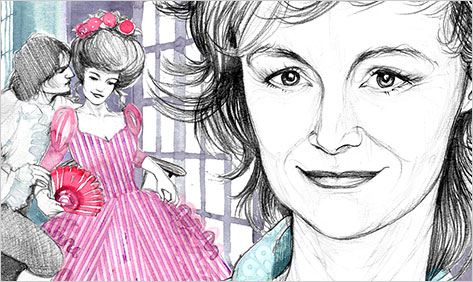 Eloisa James is on vacation and will return with a new Reading Romance in February. The following column originally appeared on January 1, 2013.
It's disturbing to realize that the decisions that shape your life aren't all yours. To put it poetically, "life calls the tune — we dance." To my mind, John Galsworthy walked an uneasy line when he prefaced one of his story collections with that tag line: it could well have reminded the readers that Galsworthy — not life — was, in fact, playing that fiddle. The use of fate or luck in fiction is tricky, because, of course, it was Shakespeare, not life, who plunked Juliet in front of Romeo at just the right moment. Still, in the hands of a master, a twist of fate can deepen a love story by giving it delicious sense of rightness, as if the universe itself conspired to bring two people together, allowing the reader to suspend disbelief and simply enjoy the dance.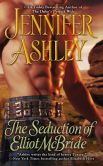 Fate deals out blows and benedictions with equal facility in Jennifer Ashley's The Seduction of Elliot McBride, in which Juliana St. John is left waiting at the altar after her spineless fiancé — who eloped the day before — neither shows up nor bothers to send a note. Humiliated, if not exactly heartbroken, Juliana retreats into a chapel while the wedding guests leave the church and slams herself into a pew — only to discover that she's sitting on the first man she ever loved, Elliot McBride. One sees the author laughing when Elliott steps in for the missing bridegroom, but the novel dips far deeper than charming coincidence. Elliott has suffered from a prolonged imprisonment and is veering near madness. Juliana's wedding proposal doesn't just save her from humiliation: it saves his life, as she is one of the strongest, sweetest heroines I've read in a long time. Seduction is Ashley's best novel so far, and those of you who've read The Madness of Lord Ian MacKenzie know the bar is high indeed. We should all be so lucky as to dance to Jennifer Ashley's tune.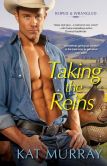 Kat Murray's Taking the Reins uses a similar twist of luck to bring her hero and heroine together. Peyton Muldoon is trying to make a go of the ranch left by her father, but she's got no real knowledge or experience. When she fires the thieving trainer, she discovers that when it comes to a ranch, it's the trainer who draws customers. As luck would have it, Red Callahan, one of the best trainers in the state, has just finished a job and is literally sitting in his hotel room deciding which job offer to accept, when Peyton knocks on his door, offering him a job. Red and Peyton face serious problems — she's his boss and doesn't want the town to know she's sleeping with him — but they can't stay apart. Perhaps that's where employment of fate becomes most satisfying, in the romance genre at least. "I avoided you like the plague," Red tells Peyton, "because I knew we'd end up here…my heart wouldn't hold out against you." Luck brought them together — but destiny came into play as well.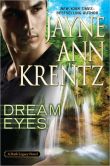 Jayne Ann Krentz's Dream Eyes is a work of romantic suspense that employs destiny as an intrinsic aspect of the author's paranormal universe. Gwen Frazier is able to talk to ghosts as well as read auras, and Jordan Coppersmith uses his paranormal senses to investigate crimes: their instant attraction to each other is unsurprising. "We were made for each other, Dream Eyes," Jordan tells Gwen. But the romance in Dream Eyes is not shaped the luck of meeting a person with similar interests, but by the idea that destiny governs all; Gwen knows as soon as she sees Jordan that he's the "man she had been waiting for…all of her life." There's more than one suspicious death in the novel, not to mention talkative ghosts, powerful crystals, a cult, and a reality show host. But Krentz uses the paranormal aspect of the world she creates not only to people a creepy small town, but also to enhance the larger-than-reality, fated aspect of Gwen and Jordan's love affair: "She could have sworn that for a timeless, joyful moment, the currents of their auras seemed to resonate together…as if for a split second they were looking into each other's very souls."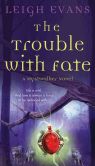 The characters in the novels above are extraordinarily lucky, but Leigh Evans's The Trouble with Fate turns the plot device on its head: her heroine is blessed with a solid stream of bad luck. Evans's heroine, Hedi Peacock, is half Fae, half Were — or, to put it less romantically, a half-breed barista with a wretched past, a sentient amulet, and the hots for a werewolf who viewed her a "bottom-feeder" in high school and hasn't changed his mind since. Hedi is a wonderfully wry, funny heroine. "If I created the world," she says, "you can bet there would be a set of natural laws, and one of them would be the Law of You Can't Stay Hot Forever." Alas, these many years later Robson Trowbridge is still hot and still oblivious, whereas Hedi's life is toppling around her. Whenever she could use a little luck, fate hands her its opposite. If Hedi uses her magic to defend herself, it goes wrong and (for example) she finds herself tethered to a homicidal washing machine. As she moans, "You'd think Karma would throw me a bone." The Trouble with Fate is a wry, funny look at what happens when luck turns against you and stays against you…except there is the moment when the utterly gorgeous Trowbridge succumbs to the inevitable.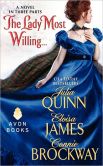 Finally, The Lady Most Willing is a novel in three parts, written by Connie Brockway, Julia Quinn, and myself. One of our first decisions was to allow "fate" to play as large a part in the book as Cupid himself. In a plot twist borrowed from Seven Brides for Seven Brothers,Taran Ferguson is determined to find heiresses for his two nephews. So he steals some brides but also an English lord (by mistake) and a penniless Scottish miss (another mistake)…. Fate and three chortling authors twist the knots tighter and tighter, culminating in a major snowstorm that keeps all the potential brides and reluctant bridegrooms cheek to cheek in a Scottish castle. To give us credit, we did try to share the blame: "Those who believed in fairies and suchlike…said later that a strange moon shone over Finovair Castle that December, a lovers' moon, a blue moon, a spoonin' moon. Others said that the Seelie Court had come riding in on that winter storm, their steeds as white as snow itself, and their laughter falling like blessings down Finovair's old chimneys and turrets."
---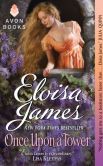 Eloisa James's latest romance is Once Upon a Tower; you can browse all of her books here.

You can check out Eloisa's past columns in the Archives, and if you'd like to get her reactions to romances as she reads them, follow her on Facebook or Twitter.
For sneak peeks at all of Eloisa's romances, please visit her web site at www.eloisajames.com.