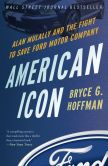 The Ford Mustang turns fifty today. The first "pony car," and Ford's most successful model launch since the Model A, the popular Mustang raced through the streets and popular culture of the sixties — before the end of the year Bond Girl Tilly Masterson was driving a white Mustang convertible in Goldfinger, and Wilson Pickett's "Mustang Sally" was an international hit in 1966.

As Bryce G. Hoffman notes in his recent American Icon, Lee Iacocca became company president "after his Mustang revived America's love affair with Ford." But Hoffman's book is about the bust that came after the boom — industry-wide but especially at Ford — and about how Alan Mulally, CEO at Ford since 2006, engineered a miraculous recovery:
GM and Chrysler had many of the same problems, but most on Wall Street believed those companies were in a better position to address them.… The analysts had crunched the numbers and concluded that Ford would run out of road first.


But no one had factored in Alan Mulally.


In less than three years, both GM and Chrysler would be bankrupt, and a resurgent Ford would wow Wall Street with quarter after quarter of profits at a time when most companies were still reeling from the worst economic crisis since the Great Depression. Mulally would be heralded as the architect of one of the greatest turnarounds in business history.
---
Daybook is contributed by Steve King, who teaches in the English Department of Memorial University in St. John's, Newfoundland. His literary daybook began as a radio series syndicated nationally in Canada. He can be found online at todayinliterature.com.