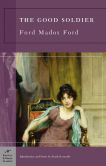 On this day in 1873 Ford Madox Ford was born (as Ford Hermann Hueffer); and on this day in 1913, his fortieth birthday, Ford "sat down to show what I could do, and The Good Soldier resulted." Most critics rank the 1915 novel, sometimes along with Parade's End, as his best. Many critics go much further, ranking The Good Soldier with Ulysses and The Sun Also Rises for its contribution to modernism — Ford's book behind Joyce's but ahead of Hemingway's on the Modern Library Top 100 of the Century list.

Various explanations are offered as to why Ford has been comparatively forgotten. The Good Soldier is sometimes described as "a novelist's novel" or "the best French novel in the English language" but too difficult, elusive, "Impressionist" for the mainstream reader. Others point out that Ford was as self-effacing as Joyce and Hemingway were self-promoting. For whatever reason, he adopted an avuncular role early on, choosing to be the gentleman-raconteur, the gourmet, the helpmeet of other new writers and writing (he started The English Review and The Transatlantic Review) but an "extinct volcano" himself. "If ambitious novelists should all study The Good Soldier as an example of the possibilities of narrative," writes Julian Barnes in a recent New York Review of Books article, "they would also do well to look at Ford's life as a prime example of negative career management."

One set of anecdotes from 1913-14, related by Ford, Wyndham Lewis, Augustus John, Osbert Sitwell and others, paints a fascinating picture of Ford's moment in history. Although older than Ezra Pound and Lewis, Ford was part of their Imagism-Vorticism-Futurism crowd, and would go with them to "The Cave of the Golden Calf," a basement Soho nightclub run by Frieda Strindberg (the playwright's third wife). It had been, recalls Ford, "hideously but relevantly frescoed" by Lewis, with "the heads of hawks, cats, camels" cut into pillars; patrons could dine, or just drink and dance, or watch "violent, Vorticist assaults on the drama." Some of these were written by Ford, and perhaps he too would sometimes "dance those obsolete Vorticist dances, the Turkey Trot and the Bunny Hug," but the picture he paints in his memoirs is that of one too old or old-fashioned to join in as the others "pranced and roared and blew blasts on their bugles and round them the monuments of London tottered." Ford says that he saw one of those monuments, a young Edward VIII, dancing at the Golden Calf. He also says that it was after one such evening that he went home and wrote The Good Soldier, this an "Edwardian tragedy" in which the world seems to crumble no matter who bugles, who soldiers on, and who abdicates.
---
Daybook is contributed by Steve King, who teaches in the English Department of Memorial University in St. John's, Newfoundland. His literary daybook began as a radio series syndicated nationally in Canada. He can be found online at todayinliterature.com.