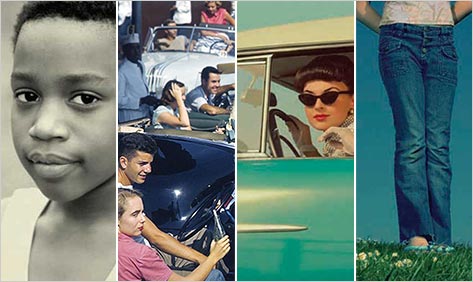 Back in the late nineties, publishers learned that books originally written for contemporary children and young adults could also be sold to people of all ages, including adults. Next came the awkwardly named "new adult" category — books that looked pretty much like novels written for young adults but written about adults just old enough to engage in racy sex and subversive plots without totally freaking out the more censorious breed of parent and school librarian. Lizzie Skurnick Books, a new imprint from Ig Publishing dedicated to republishing vintage young adult novels and edited by the writer and author Lizzie Skurnick, give readers a chance to represent something entirely new. Skurnick's aim is to take books originally written for children and teens and sell them to the adults those kids grew up to be.

The LSB model slyly reverses the trend that's propelled "YA" into the mainstream: Rather than marketing to teens, then relying on universal appeal of youth to wrangle in readers of all ages, Skurnick's primary aim is to satisfy her adult readers' retro-nostalgia, then invite interested contemporary teens along for the ride. Given that vintage chic has appealed to every succeeding generation — from 1940s chic to mod to rockabilly revivals — there are, no doubt, a few teens in every high school flaunting their seventies-era scores from the LSB catalogue. But while some mothers may pass down their mod mini-dresses to their daughters, believing in some version of the rules that differentiate between clothing meant for young and older bodies, these novels are not meant to be simply passed on: They still belong to the original owners.

Although not all of Skurnick's authors are women, her project has feminist roots. In 2008, she began writing a column called "Fine Lines" for the feminist website Jezebel, in which she revisited the paperbacks beloved by teen girls — primarily those, like her, born in the seventies, with equal parts nostalgic glee and the critical feminist revisionism of a slightly older young adult who had been out in the world. That evolved into a book, Shelf Discovery: The Teen Classics We Never Stopped Reading, published in 2009.

If the column and the book created a new kind of criticism for young adult literature, the imprint takes it much further: It creates a canon. Republishing out-of-print literature primarily about the lives of girls and women is itself a political act: It insists that literature once considered merely timely is actually timeless. It also invites a rereading of these books through a critical lens that is absolutely conscious of their place in history as artifacts of the morals, cultural norms, and prejudices of the time.

The first four books in the series span the American twentieth century: Lois Duncan contributes her first novel, Debutante Hill, written in 1958, when she was nineteen. Although Duncan is best known for her thrillers of the seventies and eighties (Killing Mr. Griffin, I Know What You Did Last Summer), this is a genteel social drama told from the perspective of Lynn, a pretty doctor's daughter who has always taken her privilege and popularity for granted, until she is forced out of her crowd when her father forbids her to participate in the local debutante ball. This classic story of preps vs. punks — the kids on the hill wear lavender sweater sets and have professional parents; the kids in town wear tight sweaters, drink in roadside bars, and have parents who work the swing shift — could be The Outsiders, West Side Story, or Grease. But although Lynn gains enlightenment via her guided tour through the lives of her less privileged peers, she ultimately returns to her proper place in the social order.

Ellen Conford begins with some retro-nostalgia of her own in her novel To All My Fans with Love, from Sylvie, first published in 1982 but set in the golden era of 1950s Hollywood. Like Marilyn herself, Sylvie is a pretty foster child chased after by all the would-be daddies; dreaming of the pictures, she takes to the road. The geography is pure 1950s America, crinoline skirts and capri pants, highways dotted with Burma Shave ads, rural poverty, and city sophistication embodied in a dress from Macy's. But Conford's canniness about sexuality, desire, and abuse (voiced by a character who is, quite literally, studying to be a psychiatrist) owes more to the psychological realism introduced in the seventies by Judy Blume and her ilk.

Even more sophisticated in its storytelling is A Long Day in November, by Ernest J. Gaines, best known as the author of classic works of American literature for adults (A Lesson Before Dying, The Autobiography of Miss Jane Pittman), which presents the potential sexual and emotional unraveling of a marriage from the perspective of the couple's young son. The novel is set among African-American sharecroppers living on a plantation in the 1940s, as Gaines himself did as a child, where twentieth-century luxuries (in this case, cars) are beginning to disrupt the rhythm of an otherwise very much nineteenth-century way of life. Although the women in the novel call most the shots — Mama, Gran'mon, and a voodoo practitioner (the latter, Gaines points out, then as common as modern-day psychiatry, among the rich and poor, educated and illiterate alike) — the final scene, a kind of theatrical violence staged to erase any imagined sexual transgressions along with any illusions about marital parity, starkly illuminates the damage gender mythologies can inflict on both men and women.

Both Judy Blume's Blubber, published in 1974, and Me and Fat Glenda, published in 1972 by Lila Perl, who died this past December, still writing at ninety-two, are novels about young girls bullied for their weight (in both novels the heavy girls are also labeled "squealers" — likely for standing up for themselves and asking an adult to intervene). But Perl's is also a buddy novel, exploring the friendship between two girls, one "fat," one "thin," one from an academic family steeped in the bohemian liberalism of the sixties and seventies, the other tied to the fifties-era conservatism that would resurge with Reagan's eighties. The novel, narrated by "thin" Sarah, can sometimes be overly harsh about Glenda's appearance, but Perl identifies weight discrimination as a cultural and political issue that arguably one did not see widely until the feminist "fat acceptance" bloggers of the early and mid-2000s. And though, like most seventies heroines, Glenda diets off the weight for her sequel, it (realistically!) comes back by novels three and four, leaving Glenda as one of the few early YA heroines to find love, and even a modeling career, while overweight.

Why does this project matter? Well, for one thing, revering youth is not the same thing as valuing the culture produced by and for young people, especially when that culture is something that can be bought or sold. We revere "youth" every time we hold it up as a cultural ideal — like being thin, or rich, or symmetrical in features. People with power and authority — i.e., adults with money — can sell things they think young people will buy and simultaneously believe that the thing they are selling has no lasting value. Youth is not a personal achievement, merely a stage we pass through. And it is always lost.

In a youth-centric culture, there's something tantalizingly subversive in taking books originally written to capture the forward-looking movement of youth and reverse-engineering them to document the cultural history of those who are no longer young. And rather than erasing or dismissing the cultural contributions of those who are still young, it should leave them optimistic that the artifacts of their own youth will not be quickly disposed of by the next generation.