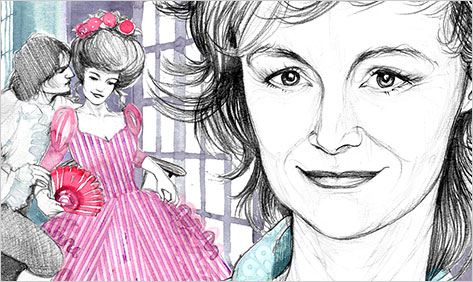 The classic romance ends when a man and woman vow to each other that they will (among other things) forsake all others. I've always thought that phrase was a pre-emptive nag, designed to remind newlyweds about monogamy. In fact, romance's central conflict often grows from the hero's inability to shake off "others" whom he's dated, slept with, or married. But in some romances, "all others" have nothing to do with the opposite sex. A soldier's greatest loyalty, for example, can be to his squad; a team can be a powerful counterweight to a woman. The strength of bonds such as these lead to riveting romances that pit the hero's allegiances to others against his love for the heroine. In these five romances, the hero must turn away from earlier obligations and promise to remain with the heroine till death do us part.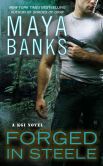 Maya Banks's hero in Forged in Steele belongs to an ultra-elite military group, KGI, made up of soldiers who venture where the U.S. government cannot go, operating in the shadows of the law. Banks's hero, Steele, is a team leader who cares about his men above all. That's not to say he doesn't appreciate women; he has a deliriously erotic one-night stand with Maren Scofield, a doctor caring for the poor in Costa Rica. When the night is over, he's called away to his next op. But when Maren is kidnapped, Steele goes mad trying to save her. His loyalties have shifted. "I care about KGI," he tells Maren at the end of the novel. "I respect them and they have my loyalty. But nothing compares to what I feel for you…. You are more important than KGI." Maren wins, hands down — and the reader wins too.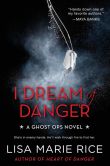 I read Lisa Marie Rice's I Dream of Danger while sitting in a lounge chair facing the Mediterranean. Unfortunately, I didn't see much of the ocean; I had Rice's whole backlist downloaded by the end of our vacation. Rice's heroes are ultra-alpha military types; in this novel the "Ghost Ops" are a secret squad of super-elite soldiers, not unlike Banks's KGI. Nick Ross is one of the best. But a soldier does not control his own schedule. After a brief, thrilling affair with Elle Thomason, Nick goes off on his next assignment. She's gone by the time he returns, her house empty, with no forwarding address. When they meet again, years later, she's become a brilliant scientist. There's a paranormal gloss here, as well as some seriously evil madmen…but the core of the book is a classic beach read. Buyer beware! Watching a warrior choose a woman over his brotherhood is definitely addictive, and for me, I Dream of Danger was a gateway drug.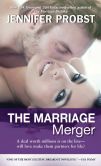 Jennifer Probst's The Marriage Merger is placed in the world of business rather than war. Julietta Conte is the CEO of her family's corporation, La Dolce Famiglia bakery, and Sawyer Wells owns an international chain of luxury hotels called Purity. A love spell crops up in the first chapter, but at its heart, The Marriage Merger is not a paranormal. Julietta and Sawyer forge a marriage of convenience — which winds up leading to some sexy fun — but their union veers near disaster because Sawyer's primary loyalty is to his business: as he tells Julietta, "I can't risk Purity because of emotions" (the contrast between purity and sensuality is surely no coincidence). The Marriage Merger is a refreshing look at a love story between two very successful people, all the stronger for the fact that Julietta is not a secretary but a CEO. It's a great fun to watch the merger become a true one as Julietta takes the place of Purity in Sawyer's heart.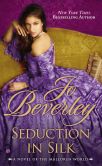 If the plot of The Marriage Merger springs from a love spell, the plot of Jo Beverley's Seduction in Silk begins with a darker enchantment. Peregrine Perriam, youngest son of the Earl of Hernescroft, is named heir to Perriam Manor — but only if he is able to persuade a complete stranger, Claris Mallow, to marry him, thereby breaking the family curse. Perry is a gentleman with a sharp tongue, and Claris is, to his mind, remarkably "ordinary." But from the moment he informs her of his plan to marry, and she retorts that he must be unbalanced, the relationship sizzles. Claris has to wave a gun to get rid of "Pestilential Perriam"; the next time he comes around, he dares her to shoot — and she does. At the end of the novel, Perry faces a true crisis in loyalty, torn between his father and his new wife. "Put this right," his father bellows, "or you are no son of mine." Beverly has crafted a sparkling, warring couple who are great fun to read about. As with The Marriage Merger, the true vows in this marriage come after the altar.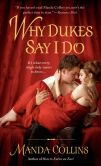 Manda Collins's Why Dukes Say I Do also turns a marriage of convenience into something far more powerful. The twist here comes in the fact that Collins's hero, Trevor Carey, Duke of Ormonde, is loyal not to his social class but to the countryside and his less-than-ducal immediate family. In fact, he has rejected his inheritance altogether. When Dukes Say I Do includes a dowager duchess whose ferocity equals that of Lady Violet, my favorite character from Downton Abbey. The dowager forces a young widow, Lady Isabella Wharton, to visit her estranged grandson and lure him back to London. Isabella initially thinks Trevor is a laborer, and is shocked to meet a duke utterly uninterested in London fribbles and fashions. While they end up married for the wrong reasons, in order to win Isabella's heart, Trevor must give up "all others," come to London, and take on the duties of his rank. He is an unusual Regency duke among the ranks of his peers on romance pages: he's good-hearted, sexy, and sweet. And when he finally admits that he adores Isabella, you'll find yourself smiling at the page.