E. M. Forster set out for India on this day in 1921, heading for his post as secretary to the maharaja of Dewas Senior, in the central-northern part of the country. Forster later wrote that this second trip to India brought A Passage to India a crucial step nearer to completion, in that it caused him to rethink the country and take a second run at his already written opening chapters. The two India trips also produced the travel memoir The Hill of Devi, full of charming observations on pre-independence India and on day-to-day life in Dewas. The following is excerpted from one of Forster's letters back home in 1912, included in the memoir:
Unversed though I am in politics, I must really give you some account of this amazing little state, which can have no parallel, except in a Gilbert and Sullivan opera. In the eighteenth century, the then Rajah, being fond of his brother, gave him a share in the government, and his descendants extended the courtesy to his (the brother's) descendants. When the English came (early nineteenth century) they seem to have mistaken the situation, and supposed that there were two independent rulers in the same city. They guaranteed both, with the result that now there are twin dynasties, with their possessions all peppered in and out of each other. Each has his own court, his own army, his own water works and tennis club, his own palace, before each of which different bands play different tunes at the same hour every evening.

It is true that Devi — the sacred mountain that stands above the distracted city like an acropolis — has at last been divided between them, so that each can get to his own shrine without walking on the other's footpath; and it is true that they have come to an arrangement over the flagstaff at the top, by which it belongs to both of them — upper half to one, lower half to the other, and the flag flying half-mast to be neutral.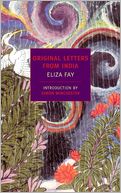 Forster's India trips also inspired him to edit and promote Eliza Fay's eighteenth-century travel memoir Original Letters from India, recently reissued in the NYRB Classics series. Forster's introduction describes Fay's letters as uniquely informative and Fay herself as "a work of art":
Were she only frank and naïve, it would be something, but she is much more: a soul courageous and gallant, an eye and ear always on the watch. She does not conceal her sufferings, but not once does she whine over them, and we get after a few pages a wonderful impression of hardness. Hard as steel? Scarcely, because that suggests nobility: but harder than her blockhead of a husband….
---
Daybook is contributed by Steve King, who teaches in the English Department of Memorial University in St. John's, Newfoundland. His literary daybook began as a radio series syndicated nationally in Canada. He can be found online at todayinliterature.com.