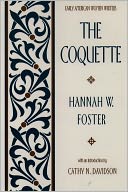 Hannah Webster Foster was born on this day in 1758. Foster's The Coquette (1797) was one of the most popular early American romance novels. Then, as now, the romance genre was under constant attack, whether from the moralists or the highbrows. In anticipation of censure for its story of illicit sex, the publishers of The Coquette could not stress strongly enough that it was a tale taken from the historical record, the highly publicized death, a decade earlier, of a well-born New England woman. Subtitled "A Novel: Founded on Fact," Foster's story does follow the news reports of the case: a passionate affair, the woman jilted, her death at a tavern while giving birth to her illegitimate child. It also sermonizes upon the woman's conduct in the expected ways, though there is also sympathy for her predicament, her options limited to spinsterhood or Scarlet Letter scorn.

Mary Wollstonecraft, who died on this day in 1797, addressed the issue of romance novels in Vindication of the Rights of Woman, published five years before The Coquette. Wollstonecraft agrees that the books are mostly trash; however, her argument is not with the genre but with the gender-based culture in which it flourished, leaving women with limited reading options and little better to do:
Another instance of that feminine weakness of character, often produced by a confined education, is a romantic twist of the mind, which has been very properly termed sentimental.… The mighty business of female life is to please, and restrained from entering into more important concerns by political and civil oppression, sentiments become events, and reflection deepens what it should, and would have effaced, if the understanding had been allowed to take a wider range. But, confined to trifling employments, they naturally imbibe opinions which the only kind of reading calculated to interest an innocent frivolous mind inspires.
Neither morality nor frivolity is of interest to the authors of Beyond Heaving Bosoms: The Smart Bitches' Guide to Romance Novels (2009), which attempts to both legitimize the genre and empty the reading closets: "No, no, don't hide your romance novel. You don't have to wrap it in a quilted cover or slide it in between the pages of The New Yorker…."
---
Daybook is contributed by Steve King, who teaches in the English Department of Memorial University in St. John's, Newfoundland. His literary daybook began as a radio series syndicated nationally in Canada. He can be found online at todayinliterature.com.