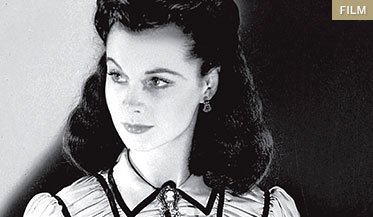 On the chilly evening of December 10, 1938, the shooting of Gone with the Wind began with a tremendous roar on a Culver City studio lot. Amid a two-mile-long replica of old Atlanta and with tender provided by the flammable leftovers from the set of King Kong, the ersatz city was set ablaze while stunt doubles of Scarlett O'Hara and Rhett Butler fled the inferno on buckboard and firemen from L.A. aimed their hoses at the raining embers. The lenses of every available Technicolor camera (there were a dozen in existence at the time) were trained on the one-shot, make-or-break scene. Two years after announcing he would adapt Gone with the Wind after forking over a record sum to Macmillan for the rights, producer David O. Selznick, who rebuffed one backer's insistence that it would be a safer bet to rely on a model shot of Atlanta aflame, didn't yet have a finished script; he wouldn't have Clark Gable, on loan from MGM in exchange for world distribution rights and half the film's box office, for another couple of months; and he hadn't even cast the role of Scarlett, after the brilliant but bogglingly expensive publicity stunt of a nationwide amateur talent hunt to find the perfect, would-be celluloid belle (1,400 hopefuls were interviewed, 90 given screen tests, and exactly one actually cast, in a minor role) and dalliances with Katharine Hepburn (who lobbied for the part), Bette Davis, and even RKO Studio's loony suggestion of Lucille Ball. (Charlie Chaplain's companion, Paulette Goddard, seemed to have the role locked up, but a massive letter campaign spearheaded by the Florida chapter of the Daughters of the Confederacy torpedoed it.)

When Selznick's agent brother, Myron, showed up late for the shoot — which, like every other potential disaster, the producer fanned into a spectacular firestorm of publicity that gossip columnists and fan magazine editors couldn't resist — he arrived with Lawrence Olivier and his young English paramour, an actress named Vivian Leigh, whose green eyes, famously described as glowing magically against the light of the yellow flames, were a real-life match for those of Mitchell's flawed heroine. "I want you to meet your Scarlett O'Hara," Myron reportedly told David, and he was starstruck: "I'll never recover from that first look," he later said.

It took a lion's share of audacity for Selznick even to dream of bringing Mitchell's insanely successful book to the screen, just as it had taken the flapper debutante turned matronly author a ton of gumption — the word she'd glue to her character Scarlett — to write the novel. War films were box-office poison, it was prohibitively expensive, and the book's legions of fans would angrily balk at anything less than ironclad fidelity to the characters and dialogue they'd already fallen for. But neither "ambition" nor "gumption" adequately describes the gall of the undertaking, writes film historian Molly Haskell in Frankly My Dear: Gone with the Wind Revisited. Gumption "is a little too modest, connoting good old common sense, while what was going on here was way beyond common sense." The latest addition to Yale's Icons of America series, Frankly My Dear is an extended portrait of the book and the film, via the three figures most emblematic of the furious determination necessary to see the project through: Selznick, Mitchell, and Leigh, all of whom had plenty in common and much to lose in their commitment to Gone with the Wind, and none of whom ever escaped its success. Selznick never again reached the pinnacle achieved with the film's 1939 run, and the megalomania and addiction to micromanagement he contracted in the process of making the most profitable film in Hollywood history marred his future projects; the reticent Mitchell never published another book; and Leigh began to succumb to the bouts of manic depression and tuberculosis that undermined the rest of her career and eventually destroyed her marriage to Olivier.

Of course, few icons are as weighted down with ideological and racial baggage as is Gone with the Wind. The Book-of-the-Month Club romance, and its unreconstructed sympathy for the Noble Cause, hardly plays the unifying function that we tend to associate with icons. Most critics saw the 1936 novel as hack sentimentalism; the book that had "beat out Faulkner's Absalom, Absalom for the Pulitzer was also excoriated for its politics, for its biased view of Northerners, the war, and Reconstruction, for lacking in personal style?. For its short-shrifting of history, especially the causes of the Civil War and the plight of slaves. For its garrulity and repetition. And? for its popularity." How can you fall in love with a thing like that? For that matter, few film critics then or now would consider the movie, which sold 202 million tickets during its first run at a time when the entire U.S. population numbered 130 million, even to be the best made in 1939. To an astounding degree for an item so unquestionably an icon of 20th-century American culture, this "celebration of caste and class from the New World's most democratic medium" depends deeply on what readers and viewers made — and make — of it individually. Haskell herself is a daughter of Richmond, Virginia, in the 1950s, a place that reflexively asserted the magnolia-and-moonlight fantasy of molasses-voiced belles, gallant Stonewalls, and biblically enforced segregation, and her description of the obsessive appeal Gone with the Wind held for teenage girls, particularly southern ones, has the almost embarrassed tone of a dirty confession jotted in a locked diary. "Reading the book and seeing the movie were to my generation interchangeable rites of passage as inevitable as baptism, the first communion, the first date, the first kiss. It was naughty, but with historical heft and best-seller status; it was dangerous and ought to have been in brown paper cover." Even admitting to having such feelings is uncomfortable. For "an instinctively self-assertive type in a culture that discouraged female nonconformity," the mildly seditious sexual politics of Gone with the Wind and the rebelliously tart figure of Scarlett that Mitchell created and Selznick and Leigh brought to life made the book and film at once a source of desire and recoil. (Haskell diagnoses the clinical history of her own condition as the Seven Stages of Gone with the Wind: Love, Identification, Dependency, Resentment, Embarrassment, Indifference, and "then something like Half-Love again.")

Her sympathies run to Mitchell in particular. The daughter of an intellectual suffragette, the author fled home to Georgia at the end of her freshmen year at Smith, following her mother's death. The 4-foot-11 Mitchell was a failed debutante who at once resented the Junior League airs of Atlanta society while remaining in almost phobic fear of offending them (one reason she kept her distance from the film). She toiled over the manuscript for a decade until it was wrestled away from her, incomplete, by a perspicacious Macmillan talent scout who got wind of it at a women's luncheon. Her unique perspective, formed both by the feminist gin-and-tonic freedoms of the '20s and by the plantation Dixie mentalities flourishing before and after (Mitchell, who was haunted by her grandmother's stories, claimed in later years not to have known that the South had lost the war until she was ten), were reflected in the dichotomies of Gone with the Wind. Between the upstart Scarlett, who acts more like a Yankee than the carpetbaggers themselves, and the good southern lady Melanie, between the failed Ashley and the rogue war profiteer Rhett, a complex picture of archetypes — who never behave as archetypes should — appears. The story, and its refusal to obey the mighty unwritten rules of Old South society codes, or even to deliver a happy ending, is a mirror of Mitchell's own divided sensibilities and identifications, but also of her obstinate perseverance in cultivating her own cocoon-like persona, one she would protect assiduously in the years after the novel's publication.

If E Pluribus Unum is a good motto for the out-of-many nature of Gone with the Wind, it's no less apt to describe how the intensities and personalities of Selznick, Mitchell, and Leigh curiously came together, as if by accident, to birth this three-and-a-half-hour-long baby. Not that these three were alone: before "gumption" meant gritty wits, it was an old art-historical term describing the preparation of paint. The "Technicolor gothic" canvas of Gone with the Wind is the product of almost too much priming and overloaded brushes: George Cukor, the initial director with a pointillist eye for lingering detail, whose reputation as a "woman's director" so worried Gable, was fired two weeks into shooting and replaced by the workmanlike Victor Fleming (the subject of a fine recent biography by Michael Sragow) and his pack-it-all-in, epic vision. A gaggle of writers, from Sidney Howard to Ben Hecht to F. Scott Fitzgerald, wrote and rewrote the malleable script. Production designer William Cameron Menzies plotted a different thematic color for each scene, while experts on southern architecture and diction and costume fetishized every detail, from the design of Twin Oaks' columns to the actors' accents. (Selznick at one point frantically posted a letter to Mitchell asking "How should we tie Mammy's bandanna?" to which Mitchell replied, "I don't know, and I'm not going out on a limb over a headrag.") Each little and big component might have acted to cancel out the other. What's remarkable is that the end product so seamlessly incorporates all of those frantic contributions. When Haskell reports Selznick's early sang-froid reassurance that he could see the whole picture unfold in his head, it sounds less like overstatement than the only thing that wove together what otherwise might have been a gangly mess. Seventy years after Gone with the Wind's debut, the producer's vision remains no less compelling — or provocative.