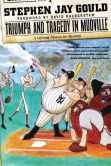 Joy left Mudville on this day in 1888, when Ernest Lawrence Thayer's "Casey at the Bat" was first published in the San Francisco Examiner. Two months later, the comic actor De Wolf Hopper gave the poem its first stage presentation, which he would reprise tens of thousands of times over the next three decades. The poem would eventually find life in all mediums, from film to opera to postage stamps, turning both Casey and Mudville into enduring national metaphors.

Stephen Jay Gould's Triumph and Tragedy in Mudville is a personal testament to "A Lifelong Passion for Baseball," but it reflects the same science-culture crossover that enlivens the evolutionary biologist's other two dozen books. At one point, Gould links his baseball life to Freud's Civilization and its Discontents — the discontent arising, in this case, from the destruction of the two New York stadiums that dominated Gould's boyhood baseball memories: Ebbets Field and the Polo Grounds. Freud describes "the mind's power to overlay current impressions directly upon past memories"; Gould describes how the places and players of his baseball past converge and endure:
Thus, I can watch Roger Clemens striking out fifteen Mariners in a brilliant one-hitter and place his frame right on top of Don Larsen pitching his perfect game in 1956. And I can admire the grace of Bernie Williams in center field, while my teenage memories see Mantle's intensity, and my first impressions of childhood recall DiMaggio as a rookie in the 1936 Series, and my grandfather Papa Joe's tales of Babe Ruth in the first three New York [subway] series of 1921–1923.
For Gould, the layered seasons reach personal bedrock with the 1955 subway series, the only one of seven in which the Brooklyn Dodgers were able to beat his beloved Yankees. Placing the memory of the game-seven shutout loss within the larger memory of baseball, Gould is able, perhaps just barely, to escape the analyst's couch:
What can I say? The subway series of my youth shaped my life and my dreams, and established the milestones of timing and memory for all later accomplishments. In the peace of midlife, just a few years shy of those senior discounts, I can even place the Freudian calm of experience upon the passions of unforgiving boyhood — and finally come to terms with the Dodgers' victory, and the spoilage of Yankee perfection, in 1955.
---
Daybook is contributed by Steve King, who teaches in the English Department of Memorial University in St. John's, Newfoundland. His literary daybook began as a radio series syndicated nationally in Canada. He can be found online at todayinliterature.com.