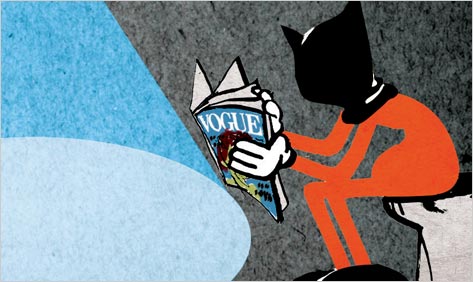 In this funny, sometimes sobering tale of the American Dream gone wrong, Boyet Hernandez, a fey-but-straight Filipino fashionista, arrives in the U.S. in 2002 to set his sights on the fashion world. He's got a fresh degree from FIM, the Fashion Institute of Makati, a sewing machine, and a small stipend from his parents back home. Possessing only the proverbial dollar and a dream, he's determined to hang his own clothing line on the gilded runway. But due to a combination of naiveté and blind ambition, Hernandez, who was raised Catholic, has the misfortune to accept funding from the wrong patron: the flamboyant and charismatic Ahmed Qureshi — an "angel" investor with some sartorial sense, mysterious millions, and a rather-too-vague global business.
The rest is history, so to speak, recounted from prison, a no-man's-land that's easily parsed as Guantánamo or one of its ugly cousins. As From the Memoirs of a Non-Enemy Combatant unfolds, Boyet, or Boy, as he's called, is charged with consorting with terrorists, perhaps more. (In the mode that's become uncomfortably familiar, it's not really clear what he's there for or how long he'll stay.) Mustering his courage and earning a pen and paper for good behavior, he gives us a tour of prison living, recounting the twists of fate that brought him to be charged with being an enemy of America. As an ingénue caught in terrorism's ugly web, Boyet poses as the friendly, gossipy voice of all that has gone wrong with deportation and detainment.
With flashing but surely sharp scissors, Gilvarry's plot cuts some strategic holes through the horror of the last decade. And at its best moments the absurdism produces effects as shimmery and strange as the fashion garments that Boy hungers after. We take the ride with the unfortunate kid, whose name reminds us that he could be almost anyone. What would it be like for an ambitious fashion-minded not-quite-grownup to find himself in some dark island prison? There's something quite remarkable about this Yves St. Laurent–loving voice narrating its own fall into the grungy uncomfortable cells, and there's comedy — albeit sad comedy — to be gained from a suspected terrorist spending all of his imprisonment pining after a copy of W magazine. There is, of course, something dangerous, too, about this gambit: it's simply too airy to match its subject. In the end, when the toll is exacted, Gilvarry's project feels like a well-crafted velouté that just about evaporates. Fashion is all well and good as a way in to make light, but in the end, torture is a heavy subject for comedy.
I couldn't help but thinking of Camus's The Stranger, a completely different sort of prison narrative, to be sure, and wishing for a little more of its masterful gravitas. That said, is the fact that Gilvarry is brave enough to make fun of torture a sign that our national flirtation with torture is receding or passed? As readers, we may hope so, but a return to innocence on such a subject now seems as unreal as a W photo shoot.