Essential reading from — and about — the master storyteller.
---
Translated by Edith Grossman
"Many years later, as he faced the firing squad, Colonel Aureliano Buendía was to remember that distant afternoon when his father took him to discover ice." So begins one of the most celebrated novels of the twentieth century, the story of seven generations of the Buendía family and the founding out of the Colombian jungle of the haunted city of Macondo. Now approaching fifty, the foundational work of what came to be known as "magical realism" has lost none of its mesmeric power.
---
Translated by Edith Grossman; Narrated by Armando Durán

Thomas Pynchon called this story of unrequited love that stretches over fifty years a "shining and heartbreaking novel," that should be shelved alongside those rare works "that can even return our worn souls to us." An exercise in book-length seduction, Love in the Time of Cholera is perhaps best experienced through Armando Durán's beguiling audiobook narration.
---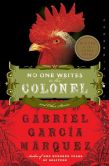 No One Writes to the Colonel: and Other Stories
Translated by Edith Grossman
Though his big-canvas novels brought him worldwide fame, Márquez worked brilliantly in miniature as well. One line from the title novella — an indelible, sensitive portait of an veteran revolutionary soldier fallen on hard times — might be a perfect summary of the author's approach to fiction: "Life is the best thing that's ever been invented."
---
Translated by Edith Grossman
When Márquez took on the final days of Simon Bolivar, the Latin American political leader he stirred controversy in his native Colombia and elsewhere by portraying "El Liberador" as a figure of human complexity. Alongside The Autumn of the Patriarch, the novel stands as Márquez's great portrait of a dictator forced to consider the limitations of his desire to alter history.
---
Gabriel García Márquez: A Life
By Gerald Martin
This intimate and extensive biography makes the case for Márquez's position among literary titans from Cervantes to Twain, and explores all of his signature works in the context of his personal life and lifelong engagement in debate over Colombia's history and cultural legacy. But don't miss Márquez's own recollections of childhood in Living to Tell the Tale.