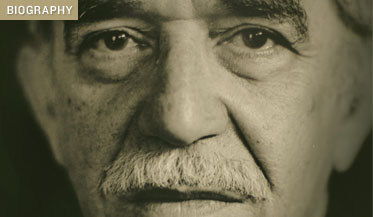 Many years after the publication of One Hundred Years of Solitude, as he faced an interviewer, Gabriel García Márquez would recall the circumstances surrounding the composition of his most famous book and declare, "I am just a mediocre notary." Millions of readers would disagree: he is an extraordinary notary, chronicling as he does the history and culture of Latin America by exploring the lives of rural town folk, powerful dictators, ex-military personnel, possessed virgins, kidnapped journalists, elderly lovers, innocent murderers, etc., etc.

But, as Gerald Martin points out in his new life of the Nobel Prize winner and bestselling author, "No matter how successful he became, he would never forget that he was nothing more than one of the sixteen children of the telegraphist of Aracata." Martin fixates on García Márquez's early life and the political activism of his adulthood. Not surprisingly, he reads the novels biographically, at pains to point out analogues among the fictional characters in the books and actual characters in life. The exploration of these carefully drawn parallels provides some of the finest passages in this dense biography.

Martin argues that the story behind One Hundred Years of Solitude is that of the Márquez family, that the unnamed protagonist in The Autumn of the Patriarch is not based on an amalgamation of Fidel Castro and other Latin American dictators but on García Márquez himself, and that the creative catalyst for Love in the Time of Cholera was a re-examination of his parents' marriage. The arc of major themes within the works themselves thus mirrors the arc of García Márquez's own life: from the solitude of the early days of struggle to the power brought by his fame in the wake of One Hundred Years of Solitude — to the love he both broadcast and felt during his later years as he realized the failure of his political forays to the solitude that waits for us all at the end of our lives.

García Márquez was born in 1927 in Aracataca, a small, mostly illiterate town in Colombia's Costa region. His father, a notorious womanizer who allegedly kept a hammock in his office for afternoon assignations, dragged his mother across Colombia, from one get-rich-quick scheme to another. Little Gabriel was effectively abandoned and left to be raised by his maternal grandparents. "'Every single day of my life,'" he told a journalist decades later, "'I wake up with the feeling, real or imaginary, that I've dreamed I'm in that huge old house.'" Each month his grandfather celebrated the little boy's birthday. That boy, in turn, listened carefully to tales about the War of a Thousand Days between the Conservatives and Liberals and the 1928 massacre of striking workers from the banana plantation; he also watched as his grandfather soldered little gold fish to sell in the neighborhood. Readers familiar with the saga of the Buendías of Macondo will find such details particularly fascinating.

As Martin exhaustively describes, García Márquez eventually reunited with his parents, attended boarding school in Bogotá (which he initially detested for its cold, urbane contrast to the more relaxed tropical region of his youth), dropped out of law school, and spent years working as a journalist, becoming Colombia's first regular movie critic. He met and fell in love with Mercedes Barcha, age 9, and proposed to her 16 years later — when they were married in 1958, they largely knew one another through correspondence. He traveled through Europe. He became friendly with figures who would ultimately determine the direction of the Latin American Left, including Castro. When he finally finished One Hundred Years of Solitude, he and Mercedes were so poor that at first they could only afford to send half of it to the publisher.

Or so goes the story. By his early 40s, García Márquez had transformed himself into a storyteller, able to alchemize the very stuff of life into something worth hearing. His critics would come to call this "García Marketing," because he so carefully cultivated his own image. In public, he began wearing tropical shirts or liquiliqui, an all-white outfit favored by members of his grandfather's generation. In interviews, he began acting "willfully uncouth," saying "almost the exact opposite of what he mean."

A biography this big — almost 700 pages, with notes — encompasses nearly every perk and pitfall of the genre. At both the beginning and end, we're told about Martin's greatest moment during the 18 years he spent researching and writing: the day García Márquez named him the "official" biographer. Given Martin's devotion as well as the standing of his subject as one of the greatest writers of the 20th century, we might excuse the forays into hagiography and over-sharing, the weird asides ("Colombia's buses are the gaudiest in Latin America") and curious bits of trivia (the wife of Carlos Fuentes wore "black leather hot pants" to dinner one night).

Still, Martin strikes a careful balance during his discussion of his subject's politics. Radicalized as a young man, García Márquez longed to see democratic socialism cover the continent as a way of healing the wounds from European colonialism and combating American capitalist imperialism. He published such impassioned critiques of Conservatives that death threats were made. Martin rightly admires a writer who gains enough power to be admitted into presidential chambers and act as a behind-the-scenes diplomat around the world. When General Augusto Pinochet seized power in Chile in 1973, García Márquez decided to cease publishing fiction until the dictatorship fell. (He reneged in the early '80s.) The United States banned him for years as a result of his involvement with communism. But such conviction also caused him to steadfastly support the Cuban Revolution, even as Castro's regime grew increasingly repressive. The rise of the Right throughout the Western Hemisphere hastened García Márquez's retreat from politics, and he realized that he would be "more dangerous as a writer than as a politician." Shortly after winning the Nobel in 1982, he claimed that "love will solve all the world's problems."

It hasn't, of course, but it would be a hard-hearted reader who held that against the octogenarian. In his final chapter, Martin argues that Living to Tell the Tale, García Márquez's wildly popular 2002 autobiography, simply wasn't confessional enough. Unlike that version, Martin's version of his life isn't full of "authentic fairy stor." He focuses on verifiable scenes and situations, though few of the most important: we rarely see García Márquez writing. Perhaps it's because he habitually destroys drafts and correspondence. Or perhaps it's because the act of writing doesn't make for very exciting reading, lonely and painstaking as it is. Obviously the writing is what matters most — more than the childhood, more than the myth-making, more than the politics, more than anything that might or might not have happened during the many days of García Márquez's long life. And that is as it should be. The biography and autobiography, compelling as they may be, only annotate the lives begot by the writing itself. Thankfully.