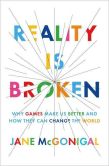 The video game Pac-Man, featuring "the most iconic character from the golden age of arcade video games," was released on this day in 1980. Though it was not the first hit in the new video game craze — Space Invaders had appeared two years earlier — analysts credit Pac-Man with redirecting the entire industry away from its macho, gun-centric origins. The game's female-friendly, dot-gobbling hero inspired a Disney-level range of merchandise, a cartoon series, a hit song ("Pac-Man Fever"), and an arcade explosion. Over the next decade, gamers spent over $2.5 billion in quarters on Pac-Man, making it the highest-grossing arcade video game of all time.

Pac-Man is now in the Smithsonian, and the video game world, says telecommunications professor Edward Castronova, is on a hyper-drive collision course with reality:
Anyone who sees a hurricane coming should warn others. I see a hurricane coming.

Over the next generation or two, ever larger numbers of people, hundreds of millions, will become immersed in virtual worlds and online games. While we are playing, things we used to do on the outside, in "reality," won't be happening anymore, or won't be happening in the same way. You can't pull millions of person-hours out of a society without creating an atmospheric-level event.

If it happens in a generation, I think the twenty-first century will see a social cataclysm larger than that caused by cars, radios, and TV combined. (Edward Castronova, Exodus to the Virtual World).
The quotation above begins Reality Is Broken (2011), in which Jane McGonigal argues "Why Games Make Us Better and How They Can Change the World":
The truth is this: in today's society, computer and video games are fulfilling genuine human needs that the real world is currently unable to satisfy. Games are providing rewards that reality is not. They are teaching and inspiring and engaging us in ways that reality is not. They are bringing us together in ways that reality is not. And unless something dramatic happens to reverse the resulting exodus, we're fast on our way to becoming a society in which a substantial portion of our population devotes its greatest efforts to playing games, creates its best memories in game environments, and experiences its biggest successes in game worlds."
---
Daybook is contributed by Steve King, who teaches in the English Department of Memorial University in St. John's, Newfoundland. His literary daybook began as a radio series syndicated nationally in Canada. He can be found online at todayinliterature.com.