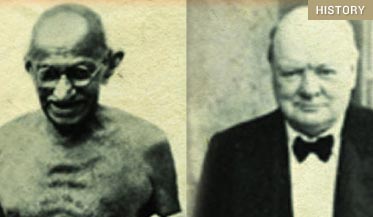 Look beyond the hyperbolic subtitle and the breathlessly apocalyptic flourishes with which this big book begins and ends — Arthur Herman would have made a great writer of advertisements for Hollywood epics of the Cecil B. DeMille variety — and you will find a superb double biography of two major 20th-century figures, which is also therefore a superb history of the world their influence shaped.

Herman — the author of How the Scots Invented the Modern World — has a genius for compelling historical narrative, and he is as generous to the virtues as he is clear-eyed to the failings of his two principals. Together these qualities make his book the kind that keeps you reading well past bedtime, and overrun your lunch hour.

It is also a book that has a surprising effect, which is that if you had preconceptions of the Gandhi-good, Churchill-sometimes-not-so-good variety, you might turn the last page with a sense of having had your notions inverted. It seems almost sacrilegious to think that a vegetarian lover of peace, a man of deep spirituality, pacifism, a fighter for justice, a Saint Theresa to the poor of India and the victims of its civil strife, a man described by India?s last Viceroy, Lord Mountbatten, as "the equal of Buddha and Jesus Christ," should come out of Herman?s scrupulous portrait in rather equivocal fashion.

But so he does. That he was sincere in his principles, and had enormous courage, there is no doubt. But when he lived in South Africa and campaigned for the rights of Indian immigrants there, he did so on frankly racist grounds; he wanted Indians and whites to be equals and segregated from blacks; he repeatedly wrote and said that it was an insult to Indians to be placed on the same footing as black people.

In India during the three decades of campaigning for independence from Britain, Gandhi was indifferent to the real possibility of civil mayhem such as indeed occurred when the Raj ended. He regarded it as a price worth paying for the end of British rule, because any price was worth paying, even the slaughter and displacement of millions. In a similar vein, in the midst of the titanic struggle between the Allies and the Axis powers, Gandhi worked against British anti-Japanese efforts in India and Burma, calling for the complete and immediate withdrawal of British forces. He viewed Japanese occupation with indifference, believing that if everyone would follow his example of nonviolent noncooperation, the Japanese would be forced to leave.

He had learned long before, in his South African campaigns of nonviolent resistance against immigrant registration laws, how unworkable such campaigns are. But the call for them gave Gandhi the moral high ground, and he used it to effect, both good and ill; Herman shows that he single-handedly derailed the British plan for a federal India that would have kept it united and avoided the hideous slaughter of the India-Pakistan partition.

And as this portrait of the tainted saint with his spinning wheel and stubbornly holy lifestyle unfolds, Herman traces the controversial career of the ambitious, bumptious, self-serving, mercurial Winston Churchill, from arrogant young soldier in India to the bulldog statesman who by eloquence, stubbornness, and power of leadership resisted Hitler. For the two years that Britain stood alone against the conqueror — for some months in the summer of 1940 winning a new Battle of Thermopylae, the Royal Air Force?s celebrated Few holding the pass against the accumulated might of Wehrmacht and Luftwaffe — the single steel thread that held the defense together was Churchill?s will.

From his childhood years, when his father, Lord Randolph Churchill (callously indifferent to his doting son), was secretary of state for India, until the day of his death over 70 years later, Churchill believed that Britain must do everything to retain possession of India, its empire?s jewel. "India" in administrative and imperial terms meant a vast swathe of the world from Aden on the Arabian Peninsula to Burma and Singapore. He rightly foresaw that the end of British rule there would mean the end of empire itself. He believed, with complete sincerity and a modicum of justice, that British rule was civilizing and positive. When Indian independence happened he accepted its inevitability; but he believed that it could have been avoided if his own earlier plans for a new constitutional settlement had been accepted.

That was not a belief the Gandhi could ever have shared. Gandhi?s view, that India must gain independence at any price, was not simply an outlook natural to a patriot and the son of a great and ancient civilization, but the conviction of a converted zealot. As Herman shows, for a considerable slice of Gandhi?s life, indeed right to the margin of middle age, he was passionately pro-British. He believed in the ideal enunciated by Lord Macaulay, of a people "Indian in appearance, British in heart and education." He described himself as British, qualified as a barrister in London?s Inns of Court, wore a suit and tie, was a devotee of Ruskin?s writings as much as he later was of Tolstoy?s, and generally aspired to the condition and status of an English gentleman.

With such a background it was inevitable that the reaction should be complete. When he turned against Britain his rejection was total. He adopted the dress and lifestyle of a wandering holy man; Churchill called him a "fakir" and a "fanatic." And in a sense he was both.

Although Herman's narrative suggests the fate of India turned on a personal clash between the two men, it was of course a larger battle between many different camps, and the two men in question only met once, in the first decade of the 20th century, when Gandhi (in suit and tie) led a delegation to London from South Africa, asking for equal status for Indians and segregation from the blacks, and Churchill was deputy to the colonial secretary. Churchill was sympathetic; but the situation of Indians in the former Boer republics lately conquered by Britain (because gold had been found in great quantities there) did not allow principle to trump Realpolitik. It almost never does.

This is an instructive book in many ways and in many of its details. Just one telling example suffices to illustrate how: in a despatch from the North-West Frontier, after the Malakand campaign in which he took part, Churchill wrote: "Civilisation is face to face with militant Mohammedanism." The year was 1897; Malakand is one of the places where today?s Al-Qaeda and Taliban hide out and cross into strife-torn Afghanistan from Pakistan.

Exhilarating all the way through, Herman?s book is also very poignant at the end. Both men came to think that they had failed after all, the one in losing India and the other in realizing too late the extent of the price paid in gaining it.