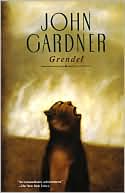 September 14: On this day in 1982 the novelist and scholar John Gardner died at the age of forty-nine in a motorcycle accident. Academically, Gardner was a medievalist, as is reflected in his first popular novel, Grendel (1971), which retells the Beowulf story from the point of view of the monster. Other novels include The Sunlight Dialogues (1972), Nickel Mountain (1973), and the award-winning October Light (1976), all of these set in upstate New York, where Gardner was born, or in New England, where he did much of his teaching.
Among writers at least, Gardner is also remembered for On Moral Fiction (1978), his denunciation of modern literature for having given up on the search for "life-giving" morality. This is a theme which the novels often explore with more humor. October Light opens with the crotchety New England hero having just taken a shotgun to his television for its "hell made visible." Even the growly Grendel, a creature one part old blood-thirst and one part new doubt, can be funny. He knows there is much to life, and he spends time not occupied by the kill-or-be-killed imperative trying to puzzle it out. In this, he gets no help from mother, who shares his cave, smells, and is not Plato:
She smells of wild pig and fish. "My mother smells of wild pig and fish," I say. What I see I inspire with usefulness, I think, trying to suck in breath, and all that I do not see is useless, void. I observe myself observing what I observe. It startles me. "Then I am not that which observes!" I am lack. Alack! No thread, no frailest hair between myself and the universal clutter! I listen to the underground river. I have never seen it.
Stories abound of Gardner as an inspiring and demanding teacher. Raymond Carver was one of his creative writing students; in an essay on literary and life influences in Fires, Carver wrote thankfully of Gardner "giving me the key to his office so I would have a place to write on weekends," or explaining "the difference between saying something like, for example, 'wing of a meadow lark' and 'meadow lark's wing,'" or "drumming at me the importance of using—I don't know how else to say it—common language, the language of normal discourse, the language we speak to each other in."
---
Daybook is contributed by Steve King, who teaches in the English Department of Memorial University in St. John's, Newfoundland. His literary daybook began as a radio series syndicated nationally in Canada. He can be found online at todayinliterature.com.