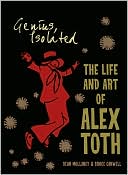 Alex Toth was no Jack Kirby. He never achieved fame through the creation of world-renowned superheroes. No legion of fanboys ever followed his byline. He was no fount of cosmic ideas. He disdained most publicity, and was more prone to morbidly dwell on what he saw as his failures, rather than boast of any triumphs. And he was not a team player or a happy camper when he felt slighted or misunderstood, which happened more and more often as he aged.
But–and it's a large, overwhelming, decisive codicil–he could draw like a refulgent harp-playing angel could sing, the result of innate talent and brute unremitting hours of lashing self-refinement. Being reasonably prolific and a consummate professional, he and his creations set higher standards for legions of appreciative fellow artists who stood in awe of his grace, clarity, vision and dedication. His revolutionary, inspirational influence on the graphic novel was subterranean, quiet and pervasive. To Toth is owed in large part many of the sophistications the medium exhibits today. Economical, intelligent visual storytelling; bold page compositions; lifelike character designs; each individual panel treated as a complete mini-canvas.
All of this and more you will learn in highly agreeable fashion in Dean Mullaney and Bruce Canwell's Genius, Isolated, the first in a three-book survey of Alex Toth and his life and work. This segment brings the artist's biography up to the early 1960s, roughly the halfway mark of Toth's seventy-seven years of life (he was born in 1928 and died in 2006). The subsequent volumes are to be Genius, Illustrated and Genius, Animated, accompanied by an elegant slipcase for all three volumes. This flourish is typical of the care and attention that publisher IDW devotes to its projects.
Editor Mullaney, I believe, is responsible for the design of the book and the assemblage of reproduced art, as well as some of the research into Toth's life. Canwell for his part has taken all the hard-won knowledge earned through their joint efforts and turned it into the solid prose biography of Toth that runs through twelve substantial illustrated chapters.
Let's consider the text first.
Canwell exhibits immense empathy with his subject, neither minimizing nor overstating Toth's prickly nature. He strives always to present a balanced portrait of a fellow who could be his own worst enemy, and yet who also displayed such immense talent and a fair amount of care and concern for his friends and family. A vivid, living portrait of Toth is the result. Moreover, Canwell knows the milieu and history of comics inside and out. The Golden Age and subsequent two decades are brought movingly and nostalgically to life. Canwell also takes the time to flesh out the subsidiary characters in Toth's life, such as Toth's favorite inker, Mike Peppe. He interpolates the results of his extensive interviews quite gracefully too.
Mullaney's selection of art is just phenomenal. He picks out key sample pages from all aspects of Toth's career, as well as deciding which crucial stories to reprint in their entirety ("Thunderjet! ", "The Crushed Gardenia ", and many others). Every effort has been made to utilize the original artwork (which also shows Toth's primary techniques), and when originals are not available, the printed art has been lovingly restored. One major coup is the presentation of the seldom-seen "Jon Fury" strips produced when Toth was in the Army. (These overly talky strips are among the few that Toth wrote himself, and reveal his one glaring lack: an inability to script his own creations.)
And Toth's art does stand the test of time, continuing to delight and inform. Study almost any single panel, like the final one on page 126, where a woman and child exist amidst an otherwise blank space, or the one on page 165 that depicts an adolescent girl swinging a baseball bat, the sensual lines of her body so full of movement, and you realize that Toth never let even the most disdained hack assignment leave his hands without a full investment from his genius–a legacy now, with this project, no longer isolated from its natural audience.
---

Paul Di Filippo's column The Speculator appears monthly in the Barnes & Noble Review. He is the author of several acclaimed novels and story collections, including Fractal Paisleys, Little Doors, Neutrino Drag, and Fuzzy Dice.