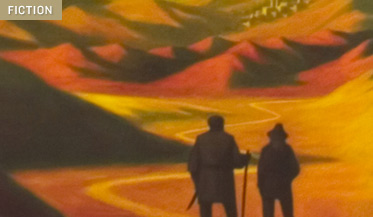 As a kid, Michael Chabon must have read books by Alexandre Dumas like other kids his age ate Twinkies –with one difference: the sugar buzz from The Three Musketeers and The Count of Monte Cristo didn't dissolve in his bloodstream but fully saturated his impressionable young brain so that years later, even after he'd topped the bestseller lists and won the Pulitzer Prize, Chabon would still get a happy rush of blood-tingle from writing plot-driven adventure stories that arrive on bookshelves like much-needed antidotes to the modern trend of morose, nihilistic, cynical fiction.

Which isn't to say that Chabon's fiction is not occasionally dipped into a bubbling vat of thick, morose prose (just look at the brutal, unforgiving world of his Jewish Alaska in The Yiddish Policeman's Union, for instance). He just knows how to ladle the fun with the bleak. For the past seven years, starting with The Amazing Adventures of Kavalier and Clay, he's been reaching back to the early roots of popular American fiction (whose taproots also extend to the Europe of Dumas and Dickens) to deliver novels with plots that tumble forward like a somersaulting gymnast.

The phrases "good old-fashioned ripping yarn" and "they just don't write books like this anymore" spring to mind when talking about this recent renaissance of Michael Chabon. In book after book, he's crossed the slippery boundaries of genre to bring us novels that are the literary equivalents of Saturday matinee serials. In Kavalier and Clay, it was pulp magazines and adventure comics; in Summerland, it was children's literature infused with Narnia and Tolkien; in The Final Solution, it was locked-room detective fiction; and in The Yiddish Policeman's Union, it was film-noir-meets-science-fiction. Chabon has mastered the art of dragging pulp fiction into the 21st century, where we can enjoy it under the buzzing fluorescent lights of postmodernism.

Now comes Gentlemen of the Road, and it's a whiz-bang adventure tale that perfectly distills and bottles the best qualities of Dumas, Indiana Jones, and every buddy-cop movie you've ever seen.

This slim novel, written against an epic-sized background, was originally serialized in The New York Times Magazine and has now been expanded in book form, to include an afterword by Chabon (where he reveals the story's working title was Jews with Swords) and illustrations by Gary Gianni.

As Chabon freely admits, "sword-wielding Jews" sounds like an incongruous paradox in today's society (but then, he adds, so is the phrase "People with Books"). However, when you think about it (and Chabon has done a great deal of thinking about it over the course of his last four novels), the simple definition of "adventure" is what happens every time we cross the threshold of our front door and hit the road of life. For the children of Abraham, Chabon notes, this started the first time God said, "Thou shalt leave home." The Old Testament is nothing if not one big Saturday matinee cliffhanger after another, right? We shouldn't laugh when a Jew picks up a sword (or dons a superhero cape or patrols the noir-dark streets of Alaska). Still, Chabon knew most People with Books might think Jews with Swords was something spawned by Mel Brooks, so he changed the title to something a little more respectable, and a lot more blas?.

Set in the kingdom of Arran (which roughly corresponds to Azerbaijan today) in the year 950, Gentlemen of the Road follows the adventures of two mercenary warriors as they travel along the ancient Silk Road between the Black and Caspian seas. Zelikman is a pale, gaunt hero who is always dressed in black and who loves his hat as much as he does his horse; Amram is a giant African who wields a Viking ax nicknamed "Mother-Defiler." By the time we first meet them, the pair have been getting in and out of scrapes for a long time. They've formed a close bond that goes deeper than any felt by the likes of the Lone Ranger and Tonto or even Don Quixote and Sancho Panza. They are brooders who are loyal only to their own cause of independence and making money on a clever flim-flam scheme that cheats fellow travelers out of their gold coins.

"I am not overly encumbered by principle," Zelikman says at one point. "I am a gentleman of the road, an apostate from the faith of my fathers, a renegade, a brigand, a hired blade, a thief." He and his large, muscular companion are each running from ghosts that haunt their pasts — Zelikman's mother and sister were raped and murdered by marauding bandits, and Amram's daughter was stolen from him 20 years earlier. They are a complex pair of characters, and Chabon makes their pain, suffering, and ultimate bravery the most compelling feature of the novel.

Even though Zelikman and Amram have distanced themselves from the rest of humanity, they're fully aware there's trouble brewing in the kingdom — rumors of betrayals and assassinations — and they want no part of it. In short, they are carrying on the proud tradition of reluctant heroes. Indy Jones would be proud to share a flask of wine with them.

All of that changes when they cross paths with Filaq, a freckle-faced youth who claims to be the son of the recently deposed bek, the war king of the Khazars who rule over a Jewish empire which is clashing with Russian warriors from the north. Filaq's family members have been raped, murdered, or sold into slavery, and now the heir to the throne is being pursued by soldiers loyal to the corrupt general at the heart of the Khazarian coup. Amram and Zelikman are still debating whether or not to help Filaq when arrows start flying and they find themselves on the run with the once-and-future king.

Chabon tells this "tale of adventure" with a curious mix of breathless cliffhangers and a dense, meandering style that forces the reader to take it slow and savor a narrative that defiantly echoes that of authors like Dumas, Rafael Sabatini, and Conan creator Robert E. Howard (all of whom Chabon cites as influences in writing Gentlemen of the Road). On the one hand, you have to admire a writer so determined to return us to the Golden Age of Adventure Fiction (whenever that might have been); but along the way, you might find yourself interrupting your enjoyment of Gentlemen of the Road to reach for a dictionary to look up words like "stripling," "gonfalon," or "shatranj."

In the end, those are only speed bumps on this road. After all, while reading The Three Musketeers how many of us do voluminous research on 17th-century French court politics? Chabon is smart enough to make sure the Story remains of prime importance and never lets the vocabulary or the often confusing tapestry of history tangle up the breakneck pace at which he unspools his yarn.

To read Gentlemen of the Road is to savor your time in an armchair where you can be transported to a world full of clanging swordplay, clashing armies, wily horse thieves, vagabond Jewish merchants, exotic prostitutes, heroic elephants, and the sublime devotion to a good hat. If Chabon keeps this up, we'll never have to cross our threshold again to find true adventure.