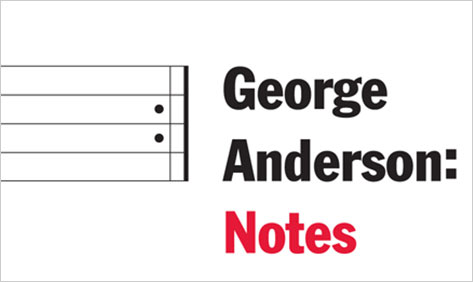 One of the most important aspects of literature is its ability to counter and rebuff ideology. As Kafka put it in a 1904 letter, "A book must be the ax for the frozen sea within us." A story that fails to transport its reader to a different mental climate is, in all likelihood, a misfire.

In the afterword to Peter Dimock's politically mad novel, George Anderson: Notes for a Love Song in Imperial Time, Dimock comments on the ideological foundations to which his novel takes a shovel. Chafing at the notion of American triumphalism, he writes:
I have tried to write a novel that explores…what I believe is a national narrative failure. The success of my ambition, it seems to me, will rest upon the reader's response to my invention of a form that purports to create the internal imaginative condition for the refusal of American national triumph — and a determination to live, love, and speak without compromise from the ground of that refusal, no matter how estranged or estranging the results may seem at first.
The key verb here is estrange. Considering that Dimock underscores this word while gesturing toward the form of his novel, I imagine he had the Russian Formalist Viktor Shklovsky in mind when he composed his remarks. One of the great literary figures of the twentieth century, Shklovsky coined the neologism ostraniene, which is usually translated into English as "estrangement," to describe the formal devices that literature uses to remake or make strange our perception of the world. In his seminal essay "Art as Device," Shklovsky notes, "By 'estranging' objects and complicating form, the device of art makes perception long and laborious."

That's a daunting description, and it does apply here: Unless one habitually heads toward fiction's more experimental precincts, reading Dimock's deceptively short novel may result in what is, one hopes, only a brief case of the fidgets. Dimock is as much a conceptualist as a storyteller; his use of what the novel's narrator refers to as "discontinuity," not to mention his fondness for repetition, may lead a reader to fret over where the story is going. (Until around page fifty-eight or eighty-three of the uncorrected galley, I would've counted myself in that camp.) But, the novel pays dividends to people who aren't disgruntled by re-reading.

What's initially challenging about George Anderson is getting used to or, better yet, harmonizing with its unsettled, didactic narrator, Theo Fales. Notwithstanding his Harvard and Yale pedigree or his upper-middle-class status, Fales is what you might generously call a noble-hearted crank. His raison d'être is to share his visions and insights with a man whom he's never met but with whom he closely identifies.

Troubled by his conscience, Fales writes a letter to David Kallen, a former senior official at the Office of Legal Counsel under George W. Bush. (Kallen's real-life counterpart is Daniel Levin, who served as the assistant attorney general from 2004–5.) Fales acquired Kallen's contact info through his client, former director of Central Intelligence, Fred Avery. (Avery is clearly a takeoff of George Tenet.)

Working as an editor at a publishing house, Fales shepherded the production of Avey's widely successful memoir. In the process, Fales helped Avery sidestep the more problematic episodes of his tenure, such as his oversight of the CIA's so-called enhanced interrogation programs. Assessing the net result of their collaboration, Fales writes:
It never occurred to me to insist that Fred Avery deal in his memoir more conscientiously with the question of his responsibility for authorizing and overseeing the torture with which the agency he directed was tasked by those who appointed you to head the Office of Legal Counsel, the post you always dreamed of holding… [Avery's] high rhetoric (and boyish laughter) — the devotion of his public service — the stern kindness of his unpretentious command — my complicity — the fellowship of our birth and class — all this prevented it. The stillness surrounding the careful silence of authority is not kind….
Power's pleasures were written as self-sacrifice in the public interest. Devotion to family and country were written to suggest they entailed the burdens of atrocity in fighting savage wars a moral man could not refuse. Frederick Avery's strength and discipline, we implied, spared the ordinary citizen the moral consequences of dominion.
By fessing up to own capacity for choosing expediency over ethical purity ("I edited and helped write a war criminal's self-laudatory memoir") Fales establishes a moral correspondence between his actions and Kallen's signing of a 2004 memo that provided legal cover for the dubious interrogation practices undertaken in the War on Terror.

As Fales tells it, he was drawn to his addressee via a news item that detailed how Kallen had instructed Special Forces personnel to waterboard him prior to his drafting of the memo. While Fales applauds Kallen's excursion to the dark side — "you did this in search of an experiential basis for the words of your legal finding" — he ponders how Kallen could have described what happened to him as torture, only to then author a memo that excused the facilitators of such actions from any liability.

As a means for overcoming the gap between private qualms and public actions, Fales proposes that Kallen employ the "meditative techniques" as prescribed by his "historical method" to rid himself of his personal excuses for furthering U.S. hegemony. Fales's program is also meant to lay the groundwork for a tête-à-tête that he'd like to set up when he and Kallen are scheduled to appear at the opening of a new music center at the University of Maryland.

At its core, Fales's method is structured around memorizing chunks of texts then transforming them into what he describes as mental notes that can be rearranged in the mind like a jazz score. (Picture William S. Burroughs's cut-up technique used as the basis for generating mantras.) Citing lines from works such as the Declaration of Independence, Middlemarch, and The Autobiography of Frederick Douglass, he admonishes Kallen to ingest their wisdom and to see the abuses of unchecked, political power for what it is — namely, inimical to democracy.

Of all of the texts that Thales cites, the one most important to him is the (true) story of George Anderson as reported in Trenton State Gazette in 1925. Throughout his letter, he refers to Anderson's experiences as an ex-slave and to his post-emancipation conversion to Christianity as a parable for coming to grips with America's sins. Fales traces a line between the institution of slavery and America's recent checkered past, finding in both instances legal systems that were put in place to permit one group of people to act with untoward license toward another group. For Fales — who describes himself as a secularist — only a spiritual practice, which he intends this "historical method" to be, can neutralize the imprint of self-serving ideology.

Politics aside, the crucial factor that will determine whether or not one responds favorably to George Anderson: Notes for a Love Song in Imperial Time is the extent to which one can go along with patches of text like:
Temporalities of managed, stochastic determination have ruled events since 1945. Stochastics is that branch of mathematics that concerns random sets of observations each of which is plotted as a point on a separate distribution curve. This technique assures that knowledge has no way to distinguish truth from power: algorithms manage preference backed by force, mathematics suspends choice and replaces politics.
If one is not fazed by such knotty syntax, or the occasional flight of lyricism that at first blush seems unintelligible but is clarified pages later, one may find in this dazzlingly executed work an icebreaker ready to be swung at whatever dogma might have crystallized inside you.