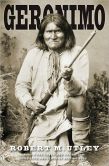 We stood between his troopers and my warriors. We placed a large stone on the blanket before us. Our treaty was made by this stone, and it was to last until the stone should crumble to dust; so we made the treaty, and bound each other with an oath….
So the Apache chief Geronimo recalls in his autobiography his final surrender on this day in 1886, effectively ending the Indian Wars fought on various fronts throughout the Southwest over the previous half century. With his fugitive band reduced to eighteen warriors, and with 5,000 soldiers pursuing them across the mountains of Arizona and Mexico, Geronimo saw no option but to accept his fate as described to him by General Nelson Miles, the officer sent to capture him:
I will take you under Government protection; I will build you a house; I will fence you much land; I will give you cattle, horses, mules, and farming implements. …There is plenty of timber, water, and grass in the land to which I will send you. You will live with your tribe and with your family….
Geronimo spent his last quarter century as a prisoner of war in Florida and Oklahoma, under conditions which he regarded as unjust, ignoble, and inevitable:
For years I fought the white man, thinking that with my few braves I could kill them all and that we would again have the land that our Great Father gave us and which he covered with game. I thought the Great Spirit would be with us, and after we had killed the whites then the buffalo, deer and antelope would come back. After I fought and lost and after I traveled over the country in which the white man lives and saw his cities and the work that he had done, my heart was ready to burst. I knew that the race of the Indian was run. …The sun rises and shines for a time, and then it goes down, sinking out of sight and is lost. So it will be with the Indians.
---
Daybook is contributed by Steve King, who teaches in the English Department of Memorial University in St. John's, Newfoundland. His literary daybook began as a radio series syndicated nationally in Canada. He can be found online at todayinliterature.com.