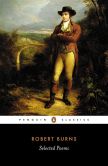 On this day in 1759 Robert Burns was born in Alloway, Scotland, and on this night lovers of Burns, Scotland, or conviviality will gather around the world to celebrate the fact. Burns was elevated to national hero in his lifetime and cult figure soon afterwards, the first Burns Night celebration occurring almost immediately upon his death. This is due partly to the poetry and partly to the legendary details of the ploughman-poet's life — his years as a poor tenant farmer; his enthusiasm for women (fifteen children, six born out of wedlock); a patriotism that would not allow him to take money for his songs; his death at thirty-seven. Though many poems are philosophical and political, there are more than enough on the Highland lassies/wee dram themes to keep this evening going until well past when it shouldn't. Amid the piping and toasting will be an enthusiastic reading of "Ode to a Haggis," in which Burns first trashes the effete French — who feed on "ragout, / Or olio that wad staw a sow, / Or fricassee wd mak her spew" — and then trumpets the manly Scots, raised on the "Great Chieftain o' the pudding-race":
But mark the Rustic, haggis-fed,

The trembling earth resounds his tread,

Clap in his walie nieve a blade,

He'll mak it whissle;

An' legs, an' arms, an' heads will sned,

Like taps o' thrissle.

Ye Pow's wha mak mankind your care,

And dish them out their bill o' fare,

Auld Scotland wants nae shinking ware

That jaups in luggies;

But, if you wish her gratefu' pray'r,

Gie her a Haggis!

[But take note of the strong haggis fed Scot

The trembling earth resounds his tread

Clasped in his large fist a blade

He'll make it whistle

And legs and arms and heads he will cut off

Like the tops of thistles.

You powers who make mankind your care

And dish them out their meals

Old Scotland wants no watery food

That splashes in dishes

But if you wish her grateful prayer

Give her a haggis!]
---
Daybook is contributed by Steve King, who teaches in the English Department of Memorial University in St. John's, Newfoundland. His literary daybook began as a radio series syndicated nationally in Canada. He can be found online at todayinliterature.com.