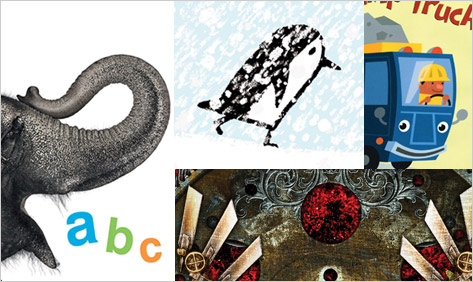 Welcome to my third annual attempt to answer the burning question: "How do I buy a book for a gift for a kid I don't know very well?"
At a recent gathering of school librarians, James Patterson, the perennially bestselling author and sponsor of the site Readkiddoread.com, said every holiday should be a reason to give a kid a book. I know that if someone gave me a book on Arbor Day would have taken me by surprise — but in general, we are on the same page.
But while I couldn't agree more that books are nearly ideal gifts for kids, book selection comes with a lot of pressure: we demand, I think, more from books than from other kinds of gifts, and especially so when we're offering them to young minds. For example, we want to give young children a picture book with superior writing that sings, outstanding art that tells more of the story than the words, and that the story or information is developmentally appropriate. Finding just the book to fulfill all those goals can be more than a little daunting.
So, with an eye toward grandchildren, a friend with a newborn or that niece or nephew we only see when the holiday ornaments appear, I offer my librarian's experience and will attempt – without ever having laid eyes on the kids in question — to do the impossible; recommend wonderfully appropriate new books for their reading pleasure.
What follows are my picks from the thousands of children's books published this year — sorted by age group, and with some notes to help you spot just the right book for that young reader.
First things first: I am skipping the obvious titles. I am not unaware that there is a new Ivy and Bean, a fresh installment of Wimpy Kid and a sequel to the hit Hunger Games, titled Catching Fire, now available. If the children are readers, these sequels will not have escaped their notice. This round-up of titles is meant to steer you toward those books they haven't already devoured.
On to the books:
For the family with the new or newish baby a can't-miss-delight is Helen Oxenbury's Baby Love, a tiny boxed set of her board book classics, Clap Hands, All Fall Down, Tickle Tickle and Say Goodnight. Is there a two or three-year-old around? My favorite read aloud for this age group is The Little Dump Truck by Margery Cuyler. Readers can sing out "I'm a little dump truck/ run by Hard Hat Pete/,rattle-rattle-clatter, driving down the street.", to the tune of "I'm a little teapot". The jaunty rhyme matches perfectly with the bold graphic art and the heavy stock pages that will hold up to repeated readings.
It would be hard to be a parent of a preschooler and not know the work of Lucy Cousins, the creator of Maisy. Here she brings her strong black line and primary colors to the page to illustrate Yummy: Eight Favorite Fairy Tales. With not-too-scary pictures that are perfect for young children, these classic retellings include Little Red Riding Hood, "Grandmother, what big eyes you have," she said. The Three Billy Goats Gruff, "Trip, trap, trip, trap", Henny Penny — and her equally verse-worthy friends, Cocky Locky, Goosey Poosey and Turkey Lurkey — Goldilocks and the Three Bears and a welcome, unexpurgated version of the Three Little Pigs in which the first two pigs get eaten and the wolf ends up boiled in a pot of water.
But if I could only pick one picture book to give this year it would be The Lion and The Mouse retold and illustrated by Jerry Pinkney. The award-winning illustrator recasts this well-known Aesop's fable in the African Serengeti. To recap the famed tale — Mouse is caught by Lion and pleads for her life, promising to do a good turn for him if and when the opportunity arises. Lion scoffs: What can a tiny rodent do for a great lion? But he does let her go. Then Lion is caught in a hunter's net snare. The mouse comes to his rescue, gnawing the rope to set him free. Pinkney has created fine art watercolor paintings for this nearly wordless rendition. Children will find themselves poring over the pictures, discovering hidden details -an insect in the brush or a frog in the corner of the page. This is also a good pick for a family for whom English is a second language — the almost wordless picture-story can be "read" in any language.
Antoinette Portis, the bestselling breakout author/illustrator of Not A Box surprises this jaded children's librarian again with A Penguin Story. Our little protagonist penguin looks around and wonders about the colors prevalent in Antarctica, yearning for more than white of the snow, the black of the sky and the blue of the sea. She journeys away from all that she knows hoping to discover what is missing. Portis' bold graphic images are perfect for the preschool audience just discovering the world around them. Children will delight as they spot the new color — probably before the reading grown-up.
Now, I know this is supposed to be about books but maybe you are looking for a whole family present. May I suggest that a house with preschoolers will be forever grateful to receive the Treasury of 100 Storybook Classics on DVD created by the award-winning producer Weston Woods . This is a collection of tried-and-true favorite stories, partially animated using the original picture book art. Many have celebrity narrators like Meryl Streep, Sarah Jessica Parker, Forest Whitaker, and Cyndi Lauper, among others. A wide variety of titles are represented from Bill Martin Jr's rollicking alphabet rhyme Chicka Chicka Boom Boom to Judy Sierra's collection of penguin verse in Antarctic Antics.
Some children are more interested in what one kid I know calls "real books" – that is, information books. Books about animals are among the most requested in my library. And children who want books about animals want "real" pictures. They want photographs. Here are three showstoppers –
For the very young is Creature ABC by Andrew Zuckerman. Spectacular wildlife photographs of animals on a stark white background are paired with capital and lower case letters. Zuckerman begins with a fairly typical sequence — B is for bear, E is for elephant . What is U? Not so obvious; it's for porcupine fish, goldfish, arowana and koi who live Underwater. Don't miss the companion — Creature Floor Puzzles, depicting elephant, tiger, lion and chimpanzee. Its giant pieces are perfect for a precocious preschooler.
For fives through seven-year-olds there is the Life-Size Zoo: From Tiny Rodents to Gigantic Elephants, An Actual Size Animal Encyclopedia. This spectacular photographic collection of twenty-one animals includes the familiar, such as the tiger and sea lion, as well as the not-so-common tapir with its flexible snout and the capybara, the largest living rodent in the world. Animals like the giraffe that are too big to be contained inside the book are captured on foldout pages. Fact-filled sidebars will entertain budding naturalists for hours.
For eight-year-olds and up, you want Animals Up Close: Zoom in on the World's Most Incredible Creatures. Igor Siwanowicz has photographed his favorite tiny animals in their natural habitats. Kids will be engrossed in the over-sized double-page spreads. The greater weevil found in Central Europe shows yellow markings made of short, thick scales that look like hairs. We can gaze into the eyes of the slender loris- (loris tardigradus) a gangly little primate that resides in Sri Lanka that is just 6 ½ inches long. Did you know that its huge eyes take up as much of its skull as its brain?
In this age of digital delivery four fiction titles stand out for their storytelling as well as their remarkable book-making. Kate DiCamillo, author of Newbery winning Tale of Despereaux gives us the gift of The Magician's Elephant. This is an original fairy tale of a boy, a lost sister, a magician who wants to do something spectacular, and, of course, an elephant. A lyrically written story of hope, it is a perfect family read-aloud. This classically written story is printed on heavy paper with dreamy illustrations creating a book to pass down to the next generation.
Where the Mountain Meets the Moon by Grace Lin is a fantasy of a different sort. This adventure comes in the shape of a quest tale set in ancient China, interspersed with folklore retellings. Minli lives with her parents in the shadow of Fruitless Mountain. Their lives are hard, and Minli is determined to search for the mythical Old Man in The Moon to change the family's luck. Along the way she befriends a flightless dragon and together they journey on. The episodic nature of the text will lend itself to evening family readings. The atmosphere of China is captured by Lin's own page decorations and ten rich color paintings overflowing detail and rich in symbolism.
Malice by Chris Wooding is the book that has gone viral at our school. I haven't seen my review copy in months. I imagine that it is being passed hand-to-hand, classroom to classroom, by the student reading underground,. Is it possible for a real kid to be trapped in a comic book? Seth and Kady don't believe it until their friend Luke goes missing. Wooding combines prose and comics for a terrifyingly original adventure — perfect for the kids who just finished reading all of the Lightning Thief series.
The fourth novel to stand out from the crowded field is Leviathan by Scott Westerfeld. The story emerges out of an alternative history of pre-WWI Europe: in a steampunk-inflected Europe, the British have developed technology based on manipulating DNA to create living machines. Two young teens find themselves trapped in the midst of world-shaking events. Keith Thompson's black and white drawings have a retro feel, invoking perhaps a leather-bound volume of Jules Verne's 20,000 Leagues Under the Sea.
A hot topic for tweens these day's is espionage. So wow them with The Real Spy's Guide to Becoming a Spy by Peter Earnest with Susan Harper in association with The International Spy Museum. The acknowledgements page teasingly states that the information contained within this volume "does not reflect the views of any government agency" but tells us that the contents have been reviewed by the CIA to prevent "disclosure of classified information." Whoa! This informal yet serious exposition of espionage asks the questions, why do we need spies? What do spies do? And who can become one? The discussions of spy terminology are particularly addictive: pocket litter, for example, is what a person carries in their pockets, handbags and briefcases; identification cards, credit cards, photographs, small objects, and receipts. A spy will create fake pocket litter to go with their cover (fake identity). The authors suggest prospective spies practice gathering information by reading newspapers, magazines and surreptitiously interviewing great-aunt Martha. (Spies need to have social skills as well as smarts.) The authors give tips on how to talk to anyone — and get other people to talk to you.
Teens really can read anything. Why give a teen a young adult novel? Librarians would say because books that are published for young adults specifically speak to their concerns and point-of-view. Of course the secret life of teens is not one their Moms and Dads really want to talk about but publishers are experiencing a cross-over of young adult to an adult audience. Note the Twilight phenomenon. So if you know any teens or cousins even in their thirties don't let artificial labels stop you from sharing.
The most atypical young adult novel is Going Bovine by Libba Bray. Part Tom Robbins, part Fast Times at Ridgemont High and part Wizard of Oz. One would not expect a book about a slacker sixteen-year-old who is diagnosed with a fatal illness to be laugh-aloud funny. Go figure. At times surrealistic, other moments more real than real, this is one of the best of the year.
The typical contemporary young adult novel reveals and revels in the life of the "troubled teen". Tales of the Madman Underground is from the point of view of the ultra responsible teen and his cohort surviving their parents' remarkable lack of parenting skills, alcoholism, neglect and abuse with compassion and resilience. This ambitious dense volume is not for the faint of heart but for the teen fed up with the saccharine notes of the holiday season.
If you have the suspicion that your reader would prefer to use a book to temporarily escape this world altogether, turn to Kristin Cashore, who debuted with Graceling, one of the best young adult fantasy novels of last year. Now there is Fire. With this book — more of a companion volume than a prequel — we enter an imaginary world geographically removed from the kingdoms of the Graceling. Here there are the ordinary humans; farmers, shepherds, soldiers, a king, and his court — but this other land is also populated by a mutant species of creatures known as "monsters." A monster mouse is mouse-like except that it is covered in brightly colored fur and is stunningly beautiful. There is a monster human with hair the color of flame. She is of devastating beauty and has the ability to bend other minds to her own. Cashore continues to explore the theme of self-determination, and she doesn't stint on the heartbreaking romance.
Every once in awhile an extraordinary book surfaces and we scratch our heads and say, "who is this for?" Tales from Outer Suburbia is that indefinable volume. Shaun Tan of the wordless fantasy immigrant tale The Arrival has created another work to defy categorization. A collection of richly illustrated pieces, some dotted with tiny colored-ink drawings, others featuring sweeping detailed paintings, it contains both a faux newspaper as well as scrapbooky instructions on how to make your own pet. The effects keep shifting: readers will wonder, question, laugh and sigh.
And every year there is the book for all ages. Julie Andrews had already proven that she was much more than a celebrity moonlighting as a writer with The Last of the Really Great Whangdoodles and Mandy. Now The Julie Andrews Collection of Poems, Songs and Lullabies has brought together verse that will delight families across ages and generations. From classics like "My Bed Is a Boat" by Robert Louis Stephenson to "Sweet Dreams" by Ogden Nash, this volume defines the word "treasury". James McMullan's masterful watercolor paintings unify the disparate selections allowing song lyrics to mingle easily with limericks that fearlessly stand next to classic texts. Those hunting for a gift for the elementary classroom teacher need look no further.
Still unsure on how to choose the perfect book gift for the right aged child? Fear not: the Children's Book Committee of the Bank Street College of Education has been making suggestions for one hundred years. In this 100th anniversary edition of The Best Children's Books of the Year, they have provided not only recommendations by age and interest, (what, for example, do you suggest for a kid who loves mysteries) they have included tips for grown-ups on how to select the "just-right-book" to share with the children in their lives.