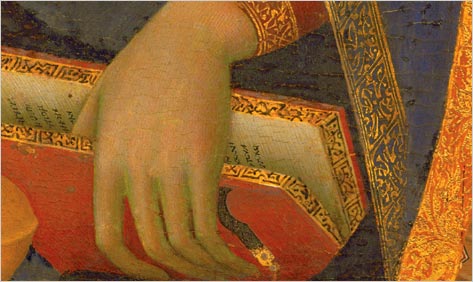 Remember those old writing assignments where you were asked to fabricate a story inspired by an art postcard? Girl Reading, Katie Ward's demanding yet virtuosic first novel, takes that exercise to new levels by spinning seven separate tales spanning seven centuries, from 1333 through 2060, all connected to portraits of young women reading. At times, it feels like an amped-up version of Girl with a Pearl Earring, and one chapter, set during World War I in an English country house occupied by bohemian artists and a hawk-eyed, lovesick fifteen-year-old, evokes both Ian McEwan's Atonement and the Bloomsbury circle. But despite these varied associations, Ward's ambitious, sui generis book is no mere mash-up.

If your idea of a good book is one that transports you to different times and places yet speaks to current issues — and you don't mind some initial disorientation — climb onboard. Among Ward's reading women are Laura Agnelli, a foundling who hopes to become a nun but is conscripted to sit for a temperamental artist, Simone Martini, who's been commissioned to paint an altarpiece of the Annunciation for the new cathedral in Siena in 1333. He poses her with the Koran, and their somewhat unlikely, anachronistically feminist-tinged conversations encompass everything from the symbolic import of lilies and vessels to the Bible's take on abortion.

Zoom ahead 300 years to seventeenth-century Amsterdam, where deaf housemaid Esther struggles to keep her job despite the enmity of her mistress and the unwanted attentions of her master, painter Pieter Janssens Elinga. He catches her reading one of his wife's untouched books and immortalizes the scene in a painting in which the viewer spies the scene from behind.

Nearly 200 years later, the modest widow of a photographer strives to run her husband's Piccadilly portrait studio while training their young son to take over the business. When her long-estranged, flamboyant twin sister, a spiritualist who moved to America, shows up on tour, the two hash out old resentments from a childhood in enforced show business that suited only one of them. The once-identical twins are beautifully captured in a succinct assessment: "Two carriage wheels, weathered differently."

What's the connection between these stories — beyond depictions of women with their heads bent over printed pages? Trying to figure out the link is, in part, what keeps us reading, so I won't give away Ward's surprising and utterly audacious climax. What I can mention is her primary interest in women's struggles for independence and autonomy through the centuries, which leads to an ongoing debate over whether marriage is desirable or just a benign form of bondage. She brings these themes to a head not just in her highly original, futuristic final chapter but in the most contemporary of the tales. This involves a late-night, unexpectedly intimate conversation between an ambitious, politically engaged woman working for a Conservative MP and a stranger she meets in a neighborhood pub. That Jeannine Okoro, "a person who decided what she wants and then gets it," would share her private life — she is agonizing over whether to accept her longtime boyfriend's marriage proposal — with a man she at first lashes out at for trying to snap her picture may seem as unlikely as the earlier scene in which meek Laura Agnelli confides in forbidding Simone Martini, but Ward manages to pull off these serendipitous conversations.

Be forewarned, however, that Ward is a demanding writer. In addition to her penchant for throwing us into disorienting, unfamiliar situations that only gradually become clear, she eschews setting off dialogue with quotation marks and often avoids commas as well. She prefers to imply rather than spell out conclusions — a tendency that will frustrate some readers while enthralling others. (In the case of her 2008 Shoreditch Bar story, I must confess that I'm not 100 percent certain what her cryptic coda indicates, though I have my theories.) That said, Girl Reading, with its intricately worked, wide-ranging scenarios, rewards the careful reader and would make a great book group selection, with plenty of latitude for discussion. It's an impressive, intelligent debut.