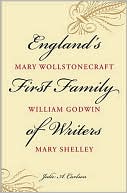 William Godwin was born on this day in 1756. Most discussions of Godwin start with one or more items from his impressive list of "firsts." He was among the first exponents of utilitarianism, the first to articulate and advocate anarchism, and the writer of one of the first political novels, also one of the first mystery novels. This was the 1794 bestseller Things as They Are; or, The Adventures of Caleb Williams, written to showcase some of the ideas put forth in Godwin's An Enquiry Concerning Political Justice, published the previous year to a great response. In the excerpt below, having temporarily escaped his oppressor, young Caleb sounds the call of liberty:
The night was gloomy, and it drizzled with rain. But these were circumstances I had scarcely the power to perceive; all was sunshine and joy within me. I hardly felt the ground; I repeated to myself a thousand times, "I am free. What concern have I with danger and alarm? I feel that I am free; I feel that I will continue so. What power is able to hold in chains a mind ardent and determined? What power can cause that man to die, whose whole soul commands him to continue to live?" I looked back with abhorrence to the subjection in which I had been held. I did not hate the author of my misfortunes — truth and justice acquit me of that; I rather pitied the hard destiny to which he seemed condemned. But I thought with unspeakable loathing of those errors, in consequence of which every man is fated to be, more or less, the tyrant or the slave. I was astonished at the folly of my species, that they did not rise up as one man, and shake off chains so ignominious, and misery so insupportable.
Today Godwin may be more widely known for biographical than philosophical reasons — for being husband to Mary Wollstonecraft, father to Mary Shelley, and so, as Julie A. Carlson's recent study titles it, an influential member of England's First Family of Writers. But in the heady days of Burke, Paine, and the French Revolution, wrote William Hazlitt in 1825, Godwin "blazed as a sun in the firmament of reputation; no one was more talked of, more looked up to, more sought after, and wherever liberty, truth, justice was the theme, his name was not far off."
---
Daybook is contributed by Steve King, who teaches in the English Department of Memorial University in St. John's, Newfoundland. His literary daybook began as a radio series syndicated nationally in Canada. He can be found online at todayinliterature.com.