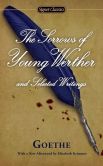 Johann Wolfgang von Goethe was born on this day, as announced in the opening sentences of his four-volume autobiography: "On the 28th of August, 1749, at mid-day, as the clock struck twelve, I came into the world, at Frankfort-on-the-Main." Goethe goes on to describe his propitious, light-filled horoscope:
The sun stood in the sign of the Virgin, and had culminated for the day; Jupiter and Venus looked on him with a friendly eye, and Mercury not adversely; while Saturn and Mars kept themselves indifferent; the moon alone, just full, exerted the power of her reflection all the more, as she had then reached her planetary hour. She opposed herself, therefore, to my birth, which could not be accomplished until this hour was passed. These good aspects, which the astrologers managed subsequently to reckon very auspicious for me, may have been the causes of my preservation; for, through the unskillfulness of the midwife, I came into the world as dead; and only after various efforts was I enabled to see the light.
Because of the light metaphor, the passage is often paired with the legendary description of Goethe's death. As he sat in his Weimar house holding the hand of his daughter-in-law, Goethe spoke of the walks he would take in the warmer months ahead, made some reference to a girl of his youth, mentioned his long-dead friend, Friedrich von Schiller, and then, just before dying, and wanting another shutter opened to the morning sun, he called to a servant for "More light!" The light metaphor also occurs in this letter written on March 22, 1831, exactly a year before his death:
…I have found no confession of faith to which I could ally myself without reservation. Now in my old age, however, I have learned of a sect, the Hypsistarians, who, hemmed in between heathens, Jews and Christians, declared that they would treasure, admire, and honor the best, the most perfect that might come to their knowledge, and inasmuch as it must have a close connection to the Godhead, pay it reverence. A joyous light thus beamed at me suddenly out of a dark age, for I had the feeling that all my life I had been aspiring to qualify as a Hypsistarian.
---
Daybook is contributed by Steve King, who teaches in the English Department of Memorial University in St. John's, Newfoundland. His literary daybook began as a radio series syndicated nationally in Canada. He can be found online at todayinliterature.com.