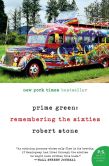 On this day in 1964, Ken Kesey and the Merry Pranksters boarded their bus, "Further" (sometimes "Furthur"), for their first trip, from Kesey's home in Palo Alto to New York City. Novelist Robert Stone was not aboard, but his apartment was Kesey's first stop when the bus arrived in New York. In his 2008 memoir, Prime Green: Remembering the Sixties, Stone notes that several busloads of people later claimed to have a seat on Further's maiden trip, trying to get in on the legend making:
Like everything that was essential to the sixties, the cross-country trip has been mythologized. If you can remember it, the old saw goes, you weren't there. But the ride in Ken's multicolored International Harvester school bus was a journey of such holiness that being there — mere vulgar location — was instantly the point. From the moment the first demented teenager waved a naked farewell as Neal Cassady threw in the clutch, everything entered the numinous.
In The Electric Kool-aid Acid Test, Tom Wolfe describes the purchase and refurbishing of Further — a day-glo paint job, rooftop seats, speakers everywhere — and the early test drives. One of these is through the woods of northern California, where a forest fire raged and a cop had some questions about the bus's roadworthiness. Below, wheelman Cassady discourses on Further's handbrake:
Well, yes sir, this is a Hammond bi-valve serrated brake, you understand sir, had it put on in a truck ro-de-o in Springfield, Oregon, had to back through a slalom course of baby's bottles and yellow nappies, in the existential culmination of Oregon, lots of outhouse freaks up there, you understand, sir, a punctual sort of a state sir, yes sir, holds to 28,000 pounds, 28,000 pounds, you just look right here, sir, tested by a pure-blooded Shell Station attendant in Springfield, Oregon, winter of '62, his gumball boots never froze, you understand sir, 28,000 pounds hold right here — " Whereupon he yanks back on the hand-brake as if it's attached to something, which it isn't, it is just dangling there, and jams his foot on the regular brake, and the bus shudders as if the hand brake has a hell of a bite…. By this time everybody is off the bus rolling in the brown grass by the shoulder, laughing, giggling, yahooing, zonked to the skies on acid, because, mon, the woods are burning, the whole world is on fire, and a Cassady monologue on automotive safety is rising up from out of his throat like weenie smoke….
---
Daybook is contributed by Steve King, who teaches in the English Department of Memorial University in St. John's, Newfoundland. His literary daybook began as a radio series syndicated nationally in Canada. He can be found online at todayinliterature.com.